Jennifer Aniston And Jason Bateman's Holiday Comedy Has An All-Star Cast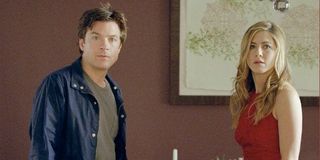 DreamWorks Pictures' holiday comedy, Office Christmas Party, has gone and amassed a rather impressive cast ahead of its shoot, which is due to begin at some point over the next few weeks in Atlanta. As you can probably tell from the title, Office Christmas Party revolves around a festive workplace soiree that gets a little out of hand. The comedy has been in development for a while, but the latest iteration was written by Lee Eisenberg (Bad Teacher), Gene Stupnitsky (Year One), and Laura Solon, while Blades Of Glory's Will Speck and Josh Gordon will direct.
But who will show up in front of the camera? Well, according to The Hollywood Reporter, a bevy of comedic talent actually. Take a look at Office Christmas Party's stellar cast below.
Jennifer Aniston
Jennifer Aniston will take the female lead in Office Christmas Party. Thanks to the likes of Horrible Bosses, We're The Millers, and The Break-Up, Aniston has established herself as one of Hollywood's leading comedic actresses. It also helps that each of these films have returned healthy box office numbers, and while she turned her hand to more dramatic fare with 2014's Cake, she will be next be in more lightweight fare coming up with this and as part of Gary Marshall's ensemble in Mother's Day. Office Christmas Party is expected to be more mature than that though, especially since Jennifer Aniston will be sharing leading, and probably romantic duties, alongside an old friend …
Jason Bateman
Like Jennifer Aniston, who he co-starred with in Horrible Bosses and Horrible Bosses 2, Jason Bateman has spent the last year away from comedy. He starred in the thriller, and surprise box office hit, The Gift, written and directed by Joel Edgerton, while he's also been working on his sophomore directorial effort The Family Fang, which premiered at the Toronto International Film Festival last fall. But we all know he can deliver the funny, and his return to comedy is always appreciated, thanks to his exemplary efforts in the likes of Identity Thief, Paul, and, of course, Arrested Development.
T.J. Miller
Fresh off his work on the monster hit Deadpool, T.J. Miller is already reaping the rewards of the box office bonanza. Miller has been making us howl in hysterics for years now though, having previously excelled in Cloverfield, How To Train Your Dragon, and, even, Transformers: Age Of Extinction. No doubt, Miller will play the aloof and quirky member of staff in Office Christmas Party.
Kate McKinnon
While T.J. Miller is currently enjoying the benefits of starring in a box office hit, Kate McKinnon will soon follow suit when Paul Feig's Ghostbusters is released. While Melissa McCarthy and Kristen Wiig are the leads of the reboot, McKinnon and her fellow Saturday Night Live star Leslie Jones will see their careers exponentially boosted by appearing. Obviously, there have been some fools who are worried that Ghostbusters won't bring the funny like the originals, pointing to its all female cast as proof of its eventual failure. But anyone who has seen any of McKinnon's work and impressions on SNL knows that she's been due a promotion to the big-screen for a while now.
That's a pretty solid line-up, one which covers all of the necessary bases. Office Christmas Party is getting a pretty quick turnaround too, because not only is it shooting this spring, but it will be released on December 9, 2016.
Your Daily Blend of Entertainment News