The Marvel Director Who Has An Alien Cameo In Luc Besson's Valerian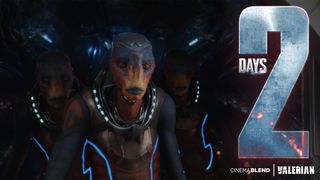 In his new film Valerian And The City Of A Thousand Planets, writer/director Luc Besson will be introducing audiences to more than a hundred new and different alien species, brought to life with a mix of practical effects, performance capture, and digital magic. What you probably won't notice, however, is that Besson got a few of his filmmaker friends to play some of these special extraterrestrial characters -- including Incredible Hulk and Transporter series director Louis Leterrier as a member of the species Kortan Dahuk (which you can get your first look at below).
I had the pleasure of learning all about the Kortan Dahuk and Louis Leterrier's part when I had the amazing opportunity recently to visit the edit bay for Valerian And The City Of A Thousand Planets and sit down one-on-one with Luc Besson to talk about his newest film. After screening an early look at the debut trailer that will be dropping this Thursday (it will totally blow your mind), I was taken to a small workstation where I got to see a breakdown of how the director and his team have brought his aliens to life -- from Leterrier's performance on set to the finished version you see above. Besson made special note of the way that Leterrier shifted his weight while walking -- accentuating the species' non-human physiology -- and expressed real pride in the beautiful orange and blue coloration.
But if you think that's the extent of the information that I learned about the Kortan Dahuk, you couldn't possibly be more wrong.
As part of building the world of Valerian And The City Of A Thousand Planets, which is based on the beloved French comic series by writer Pierre Christin and artist Jean-Claude Mézières, Luc Besson went as far as to actually create a 600-page bible that answers practically any question that anyone may have about the universe that has been constructed. This includes intimate details about every alien species that exists in the film, even if they only appear on screen for a moment. Because of this, I not only walked away from the edit bay with knowledge of how Besson went about bringing the Kortan Dahuk to life, but also a two-page fact sheet that has everything you could want to know about the species.
While there is far too much information to all be spelled out here, the story of the Kortan Dahuk is actually really beautiful -- even if we don't wind up learning anything about it within the runtime of Valerian And The City Of A Thousand Planets. The orange and blue aliens hail from a planet known as Kas-ônar, which is 5,000 lightyears away from Earth and has three suns that produce stunning sunsets and colorful winds. Being from a planet of such incredible splendor, the Kortan Dahuk have a powerful appreciation for art, and their entire society is "organized around the quest for harmony and beauty." It's this cultural mission that actually makes the Kortan Dahuk known as one of the best traveled species in the universe, as there is a rich history of them going from system to system searching out new cultures.
It's this part of the Kortan Dahuk history that's particularly significant for humans, as they were actually the first extraterrestrials to make contact with the people of Earth. The peaceful nature of the aliens has led to a peaceful relationship with humanity, and this extends to their coexistence -- alongside many, many other aliens -- in the intergalactic city of Alpha (which is the City Of A Thousand Planets mentioned in the title). In Alpha, the Kortan Dahuk exist as influential ambassadors and important figures -- which means that we may be seeing a good amount of them on screen as we watch Valerian (Dane DeHaan) and Laureline (Cara Delevingne) fulfill their duties as special operatives and maintain order in the universe.
A devoted fan of the source material who has been working on the live-action adaptation for years, Luc Besson is building something incredibly epic and detailed in the making of Valerian And The City Of A Thousand Planets, and based on what I've seen and heard, it looks like he's putting together something special. You're all definitely going to want to tune in when the first trailer for the sci-fi blockbuster drops this Thursday, but also be on the lookout for more from my interview with Luc Besson!
Valerian And The City Of A Thousand Planets arrives in theaters on July 21, 2017.
Your Daily Blend of Entertainment News
Assistant Managing Editor
NJ native who calls LA home and lives in a Dreamatorium. A decade-plus CinemaBlend veteran who is endlessly enthusiastic about the career he's dreamt of since seventh grade.