Lucy's Director Will Adapt A Famous Comic Book With Cara Delevingne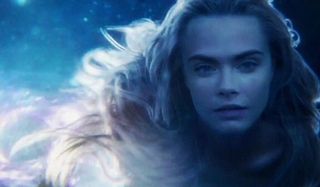 Last summer, French action auteur Luc Besson had one of his biggest hits with the Scarlett Johansson-fronted sci-fi actioner Lucy. Sticking with the genre for his next outing, he's adapting the popular French comic Valerian and the City of a Thousand Planets, and bringing along a couple budding young stars Cara Delevingne and Dane DeHaan along for what promises to be an epic production and what he calls the "biggest challenge" of his filmmaking career.
Besson has never been on social media before, but went whole hog today in order to announce Valerian to the world. The 56-year-old Fifth Element director took to Twitter to unveil the first logo for the film:
Over on his brand-spanking-new Facebook page, Besson offered up a longer explanation of the project, as well as his motivations for attempting to bring this story that he loves to life:
While the 800 days of work he mentions surely includes various stages of pre and post production, as well as the actual filming of the movie, that is still in hell of an undertaking. Principle photography is set to kick off at the end of this year, and they have their eye on a release in the summer 2017 neighborhood. But it also sounds like this will more than be worth the wait.
If your not familiar with Valerian, it garners frequent comparisons to Star Wars and Star Trek, which aren't bad things to be associated with for a sci-fi property. Created by Pierre Christin and Jean-Claude Mezieres in 1967, the title has sold more than ten million copies, and tells the story of the adventures of Valerian (DeHaan) and his gorgeous, sharp-witted partner Laureline (Delevingne). They explore the planet Syrte, the capital of a system with 1000 worlds, trying to figure out if the Syrtians are a threat to Earth. They discover an empire in decline, led by a debauched ruling class who lives in opulence, a mysterious class of masked wise men, and a population primed for revolt. Before long, Earth will have to choose a side.
This sounds like an epic, promising space opera that will translate like gangbusters to the big screen. We know that Luc Besson can handle sprawling action on this scale, and Delevingne and DeHaan are both charismatic young actors to have in the lead. By the time Valerian hits, we'll already have seen her as part of Suicide Squad, where she plays Enchantress. DeHaan, who first made waves with Chronicle, has moved on to the likes of The Amazing Spider-Man 2 and will even play a young Karl Rove in Young Americans (and let us not forget the weird post-apocalyptic Metallica concert movie).
This marks producers EurpaCorp's most ambitious project to date, and with all kinds of crazy futuristic machines, exotic worlds and peoples, and complex, crazy alien architecture from the comics, Valerian promises to be an epic, inventive time. Maybe it will be all of the things Jupiter Ascending wanted to be but wasn't.
Your Daily Blend of Entertainment News