New X-Men Rumors For The Next Movie Are Kind Of Confusing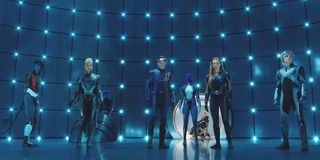 The X-Men series is the longest running cinematic superhero franchise ever. It may not have as many entries under its belt as the Marvel Cinematic Universe, but after nine movies (10 when Logan is released next year), it's built a solid world centered around mutants from all corners of life, both good and bad. Still, after 16 years, the series is starting to show its age a bit, especially since X-Men: Apocalypse didn't earn the same critical praise as its immediate two predecessors. 20th Century Fox may agree, as a new rumor suggests they already have plans on how to make the next movie feel more refreshing and unique. The problem is that said plans are a little hard to understand.
According to sources who spoke to THR, Fox has pressed the "reset button" on the "flagship" X-Men series, i.e. the main movies. Bryan Singer, who directed four of the X-Men movies and executive produced X-Men: First Class, is not expected to return to the franchise. Instead, Simon Kinberg, a writer/producer who's been part of the X-Men world since 2006, is taking the lead by writing on a new script. Now comes the intriguing part: Winberg's script is "optimistically" being written so that James McAvoy, Jennifer Lawrence and Michael Fassbender could reprise their roles.
From a behind-the-scenes perspective, these rumored changes make some sense. While Bryan Singer did usher in the X-Men film series (which in turn kicked off the modern superhero movie craze) and came back for X-Men: Days of Future Past and X-Men: Apocalypse, one could argue that a fresh perspective is needed for this next chapter. Plus, he has 20,000 Leagues Under the Sea and the Freddie Mercury biopic Bohemian Rhapsody to fill his schedule for the next couple years. Unless Fox is willing to wait on releasing another primary X-Men movie until 2019 or later, there's no way he could return to the world of mutants in a directorial role. That said, Fox may not want to cut ties with Singer permanently. Even if he doesn't helm any more of these movies, his expertise would still be valued as a producer or even as a story-crafter.
The most confusing part of this report is the soft reboot approach Fox is supposedly taking. If they're so keen on hitting that reset button, why hold out hope for James McAvoy, Jennifer Lawrence and Michael Fassbender to return? Whether you liked their performances as Professor X, Mystique and Magneto or not, those three serve as unavoidable reminders of the "First Class" X-Men series. If the series was keen on following the new X-Men team (seen above) formed at the end of X-Men: Apocalypse, then their involvement might make sense. Going off this report, though, it sounds like the studio want to put some distance between those movies and a future installment, akin to their Deadpool and New Mutants spinoffs.
Wouldn't it make more sense to start from scratch and introduce a new team? It could still be set in the same universe (not that the X-Men series has been a continuity stickler), and if absolutely necessary, characters like Cyclops or Storm could be included to provide some familiarity. This reported idea doesn't sound so much like a reset as a looser continuation. Besides, X-Men: First Class served as a soft reboot in a way, and while that did revitalize the X-Men series for a time, one would imagine that for this next phase, Fox would want to take more drastic action. It's also worth noting that wishing for McAvoy, Lawrence and Fassbender to return might not be wise. Those three aren't exactly hurting for work around Hollywood now that they're big names.
No official plot details concerning the next X-Men movie have been revealed, but there have been some indicators about what might be in store. Bryan Singer said it would be set in the 1990s, which would fit the pattern of the decade time jump between each of the movies starting with X-Men: First Class and its 1960s setting. There were also reports that it could be set in outer space and re-explore the "Dark Phoenix" storyline, which was adapted for X-Men: The Last Stand, but poorly received by fans. However, given this new report, it's hard to say whether this older information is still on the table or not.
What do you think about Fox's reported plans? Does it sound like they're looking at this the right way, or should they move in a different creative direction for the next main X-Men movie? Let us know what you think in the comments below.
Your Daily Blend of Entertainment News
Connoisseur of Marvel, DC, Star Wars, John Wick, MonsterVerse and Doctor Who lore. He's aware he looks like Harry Potter and Clark Kent.