Why Goose Had To Die In Top Gun, According To Anthony Edwards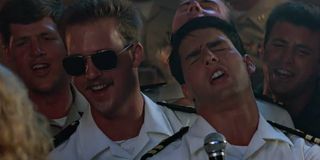 Death is a common occurrence in movies. It invariably ups the stakes and heightens the drama. However, some deaths impact audiences more than others. Without question, one of the most heart-wrenching movie deaths of all time is the tragic death of Anthony Edwards' Goose during the "jet wash" scene in Top Gun. It's an absolutely shocking silver screen demise, but according to Edwards, it's also vital to the story. The actor explained:
Anthony Edwards recently spoke to Yahoo Movies and provided that pitch perfect rationale for Goose's death. From a storytelling perspective, killing him ultimately represents a vital step towards allowing Maverick (Tom Cruise) to truly come to a moment of self-discovery. Maverick willingly admits to Goose during the events of Top Gun that his navigator is the only family he has left; once Goose has been taken away from him, he's forced to cope and endure a crucible that will make him or break him.
This is a tried and true aspect of the archetypical hero's journey. From the death of Obi-Wan Kenobi in A New Hope, to the brutal murder of Sean Connery's Malone in The Untouchables. The death of a mentor or loved one serves as the ultimate trial for a protagonist, and galvanizes them become fully realized, self-sufficient hero. Goose's death just happens to hurt more than others because he's one of the most charming and loveable sidekicks in the history of cinema.
One need only look at the other characters in the movie to see how this really works. There are two foils for Maverick in Top Gun: Cougar, and Viper. Cougar is one of Maverick's wingmen who loses the edge after a near death experience with a MiG-28 at the beginning of the film, and quits. He's an example of what could happen if Maverick succumbs after the death of Goose. On the other hand, Viper is an example of a pilot who has learned to let go of the deaths of his friends (Maverick's father, in particular) and he's a representation of what Maverick will become when he chooses to throw Goose's dog tags into the ocean.
Of course, that rationale for the death of Goose doesn't make the iconic Top Gun death scene any easier to watch.
Volleyball scene and badass soundtrack aside, Top Gun remains a seriously powerful movie that's firmly rooted in very human characters. Goose's death is a somber, emotional moment, but at the end of the day "you gotta let him go."
Your Daily Blend of Entertainment News
Originally from Connecticut, Conner grew up in San Diego and graduated from Chapman University in 2014. He now lives in Los Angeles working in and around the entertainment industry and can mostly be found binging horror movies and chugging coffee.