Fantastic Beasts Director Describes Scenes They Cut From The Film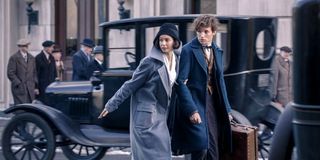 There are some slight SPOILERS ahead for Fantastic Beasts And Where To Find Them. They're nothing major, but you might want to proceed cautiously if you have not seen the Harry Potter spin-off yet.
It's always impossible for a director to squeeze in everything that they want into the final edit of a film. This is something that David Yates confronted while editing down the footage he shot for Fantastic Beasts And Where To Find Them. Luckily for us, though, the English filmmaker opened up about the scenes that he had to cut, giving us a breakdown of what nearly made it into _Fantastic Beasts And Where To Find Them. _
But don't go thinking that the stuff that was left on the cutting room floor was sub-par. That's because David Yates insisted during my roundtable discussion with him at Fantastic Beasts And Where To Find Them's New York press-day earlier this month that the film just didn't flow quite as smoothly with them in. David Yates explained:
So what did David Yates decide to cut from Fantastic Beasts And Where To Find Them? Yates and producer David Heyman opened up about two specific sequences during my chat with the pair, and one scene in particular would have severely changed the shape of the film, because it introduced us to Jacob Kowalski (Dan Fogler)'s fiancée, Mildred.
This scene saw Jacob returning to his tiny apartment after his bank loan had been rejected. Waiting there is his fiancée Mildred, who asks him if he managed to get his loan. After Jacob informs her that he didn't, she hands him a ring and walks away. David Yates insisted that it was "the most beautiful scene, tender and very funny," before explaining that they got rid of it because the audience "didn't need a reason to fall in love with Jacob" thanks to Kowalski's performance.
Meanwhile, David Yates also took advantage of Alison Sudol's musical talents during production on Fantastic Beasts And Where To Find Them, asking the singer-songwriter, who portrayed Queenie in the film, to "write an alma mater song" that Queenie and Tina (Katherine Waterston) perform to Jacob and Newt Scamander (Eddie Redymayne). David Yates added that during the course of the song you see "the boys slowly fall in love with them."
David Heyman also noted that this moment came at a rather inopportune time, too, because it took place when Newt, Queenie, Tina and Jacob all go down into the briefcase. "At that point in the story, there's a lot of stuff going on outside," he explained, so it felt a little peculiar that all four of them had sat down to sing a song.
You can judge for yourself whether Fantastic Beasts And Where To Find Them would have been better off with these songs in them, as the film is now in cinemas.
Your Daily Blend of Entertainment News