A Key Character Who Will Appear In Fantastic Beasts And Where To Find Them 2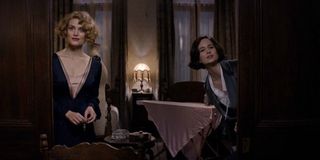 Just a quick warning that this article features some light SPOILERS regarding Fantastic Beasts And Where To Find Them. So if you've not seen the Harry Potter spin-off yet then you will probably want to proceed with a little caution. Do yourself a favor and click onto this article instead.
While Fantastic Beasts And Where To Find Them introduced us to the likes of Newt Scamander, Tina and Queenie Goldstein, Jacob Kowalski, Credence Barebone, Percival Graves, and MACUSA, this is just the tip of the iceberg. Over the course of Fantastic Beasts And Where To Find Them's upcoming sequels we'll be introduced to several more characters, each of whom are linked to the above and their world. During my roundtable discussion with director David Yates and producer David Heyman at New York's Fantastic Beasts And Where To Find Them press junket the pair decided to reveal one specific character that will appear in the sequel. And it's none other than Newt Scamander's ex-girlfriend Leta Lestrange who we already know will be played by Zoe Kravitz.
It was already believed that Zoe Kravitz (Mad Max: Fury Road, X-Men: First Class) would pop up in Fantastic Beasts And Where To Find Them 2, as her casting was confirmed back in August. But during our roundtable discussion David Yates took the opportunity to confirm she'll feature, and from the sound of things she'll be rather prominent, too. David Yates explained:
It's going to be interesting to see how Fantastic Beasts And Where To Find Them deals with the inclusion of Leta Lestrange, especially considering the conclusion of the film suggested the first sparkle of romance between Newt Scamander (Eddie Redmayne) and Tina Goldstein (Katherine Waterston). In fact, Newt even promised to return to New York once he'd completed his book.
But as David Yates' comments above suggest, Newt Scamander is clearly still harbouring feeling for Leta Lestrange, whose surname will be familiar to those of you that have seen the Harry Potter films since Bellatrix (a Lestrange by marriage), Rodolphus, and Rabastan Lestrange were all huge supporters of Lord Voldermort. In Fantastic Beasts, when Queenie probes Newt's mind for information on Leta, she responds sympathetically to whatever it is she's seen and points out that Leta was a "taker," and that Newt needs a giver. Perhaps Tina will be that giver, but in the meantime, what exactly happened in Newt's relationship with Leta that prompted Queenie to make that observation in the first place? It also sounds like Leta was kind of an outsider just like Newt, so there's definitely more to that story to be explored.
Just before the above comments David Yates explained that there is a "missing piece to Newt, and he does take refuge in the case with the beasts." Was this gap exposed after Leta Lestrange broke his heart? Will Tina Goldstein fill it? We'll just have to wait and see. Starting with the release of Fantastic Beasts And Where To Find Them 2, which will begin production in July or August, 2017, before finally being released on November 16, 2018.
Your Daily Blend of Entertainment News