Goon 2 Red-Band Trailer Loaded With Fighting, Cursing And Hockey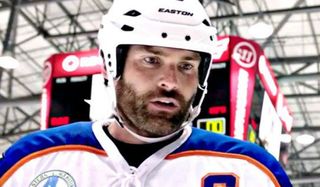 Back in 2011, Goon proved to be a rather big success, as it not only grossed $70 million but it also achieved impressive reviews, too, finishing with a score of 82% on Rotten Tomatoes. Over the last five years Jay Baruchel, who co-wrote the original with Evan Goldberg, has been on a mission to make a sequel. We now finally get to see the fruits of Jay Baruchel's labour, because the first trailer for Goon: Last Of The Enforcers, which Baruchel is directing as well as co-writing, has now been released. And it looks rather promising.
Goon: Last Of The Enforcers (trailer courtesy of JoBlo) once again revolves around Doug 'The Thug' Glatt, with Seann William Scott reprising his role as the bruising ice hockey star. The original drew heavy inspiration from the antics of enforcers throughout hockey history, as well as Doug Smith and Adam Frattasio's book Goon: The True Story Of An Unlikely Journey Into Minor League Hockey.
This time around the film is set during a lockout of the professional ice hockey season, and it sees The Thug's team the Halifax Highlanders deciding to reunite with a group of new players. Jay Baruchel has assembled a rather impressive cast for his directorial debut, as he's convinced pretty much all of the original ensemble to return.
As you'd expect, Jay Baruchel himself is doing just that in his role as Doug's best friend, plus he'll be joined by Alison Pill's Eva, who is Doug's pregnant wife There's also Liev Schreiber as Doug's rival, Ross 'The Boss' Rhea, as well as Marc-Andre Grondin, Eugene Levy, Kim Coates, Jonathan Cherry and David Paetkau.
Plus, Jay Baruchel has expanded the cast with Elisha Cuthbert, Wyatt Russell and T.J. Miller, too, which suggests that there's enough new talent to make Goon: The Last Enforcers its own, while still echoing the original. During production on Goon: Last Of The Enforcers, TSN's Sportscaster James Duthie took to Twitter to reveal that T.J. Miller would be play his co-commentator during the film, too, which just sounds perfect.
Unfortunately, while Goon: Last Of The Enforcers' Canadian release has already been announced as March 17, 2017, we're still waiting for a date when it will finally be with American audiences. Stay tuned to CinemaBlend for more updates!
Your Daily Blend of Entertainment News