Watch Michael Fassbender Enter The Animus In Painful, Thrilling Assassin's Creed Clip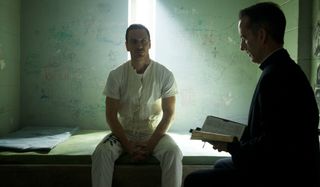 The newest clip for Assassin's Creed has given us our first good look at the Animus, the virtual reality machine that allows Callum Lynch (Michael Fassbender) to relive the memories of his ancestor Aguilar de Nerha from over 500 years ago in the Spanish Inquisition. But far from being a dainty headset that Callum Lynch simply places over his head, the Animus is a rough and brutal piece of machinery that causes its subject quite a bit of pain. You can see for yourself in the footage below.
Ouch. Things eventually get a little bit better for Michael Fassbender in Assassin's Creed, though, but only after he has had his spinal cord violated and then he has been lifted into the air by a crane that then drops him down to the ground so that he can undergo the regression that gives him access to the memories of his long deceased ancestor. As you do.
Based on the hugely popular video game series of the same name, which has sold more than 93 million copies over the course of 9 games, Assassin's Creed once again pairs up director Justin Kurzel with actors Michael Fassbender and Marion Cotillard, after the trio previously worked together on _MacBeth. _
In Assassin's Creed Fassbender's Callum Lynch is saved from his own execution by Abstergo Industries, which is a modern-day version of the Templar Order. Abstergo Industries then force Callum Lynch to participate in the Animus Project, which is where he relives the memories of his distant ancestor Aguilar de Nerha so that he can gain his knowledge and learn his skills and then battle the Templars.
You can get a better feel for Assassin's Creed by watching the trailer for action adventure film, which also stars Jeremy Irons, Brendan Gleeson and Michael K. Williams, below.
Assassin's Creed has got a bit of a battle on its hands to claw back its estimated budget of somewhere between $130 million and $200 million. That's because it's being released on December 21, which is just five days after Rogue One: A Star Wars Story hits, while it's also released on the same day as the Jennifer Lawrence and Chris Pratt led-Passengers and Mark Wahlberg's Patriots Day, too. However, the popularity of the Assassin's Creed video game series means that it has a better chance of appealing to larger worldwide audience than the latter two films, and there's every chance it could replicate the success of Warcraft from earlier this year, which bombed domestically but flourished internationally.
Your Daily Blend of Entertainment News