New Assassin's Creed Trailer Finally Brings The Game To Life On Screen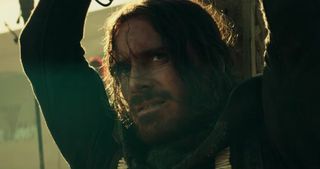 Video game movies are some of the hardest films to get right. Not only does a filmmaker have to create something with mainstream appeal, but he or she must also cater to the very particular tastes of die-hard fans. It's a balancing act that few video game films have managed to achieve, but Assassin's Creed appears to have nailed it. A new trailer for the upcoming Ubisoft adaptation has just hit the web. Check it out below.
That trailer echoes many of the narrative elements that we saw from the first official Assassin's Creed trailer, but it definitely doubles down on elements from the series. The film's story follows a man named Callum Lynch (Michael Fassbender) who finds himself abducted by a company named Abstergo after the shady group fakes his death row execution. Once he's taken to Abstergo's headquarters, Callum is locked into a bizarre machine known as The Animus, and forced to inhabit the genetic memories of his assassin ancestor who lived during the Spanish Inquisition.
As previously mentioned, this trailer really hammers home the fact that the Assassin's Creed movie will borrow liberally from the source material. All of the vital elements appear to be in play. From the various weapons and moves used by the Assassins, to the awesome parkour sequences, and even the angle used to frame Callum when he finishes off a target with his hidden blade. Beyond that, the trailer also gives us our first look at the "Bleeding Effect" from the game -- which is a present-day side effect of long term Animus use. It specifically occurs when Callum sees hallucinations of his ancestor in his Abstergo cell. If you consider yourself a fan of the games, almost everything about this trailer should feel very familiar.
Of course, we should still note that some liberties have been taken with the source material. Callum Lynch is a wholly original character, and the Assassin's Creed games have never actually gone to the Spanish Inquisition. Additionally, the depiction of The Animus machine is far different from its video game counterpart. In the Assassin's Creed games, it's pretty much a high tech bed, while the movie version turns it into a massive, kinetic machine that literally hooks into the subject's body. It's different, but it still looks awesome.
We will bring you more information related to the upcoming release of Assassin's Creed as new details become available to us. The highly anticipated video game adaptation will hit theaters on December 21.
Your Daily Blend of Entertainment News
Originally from Connecticut, Conner grew up in San Diego and graduated from Chapman University in 2014. He now lives in Los Angeles working in and around the entertainment industry and can mostly be found binging horror movies and chugging coffee.