New Mummy Footage Has Tom Cruise Beating The Hell Out Of Russell Crowe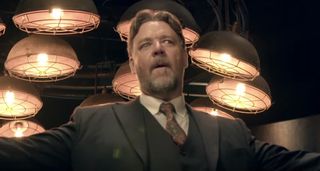 The Mummy looks good. Like, really good. That first trailer for Alex Kurtzman's attempt at rebooting Universal's monster movie saga made excellent use of Tom Cruise's action-hero versatility, a contemporary military backdrop, a terrifying new creature (played by Sofia Boutella), and an intriguing cameo by Russell Crowe. So much A-list goodness! And The Mummy only improves as you dive into this Behind-The-Scenes video released by the studio, which sets up the new film's mythology, and gets spicy with a bone-crunching Cruise-on-Crowe fight scene. Check it out:
The Mummy, due out in 2017, will be Universal's attempt at breathing new life into a stream of movies that could develop a shared monster universe. This would mean movies centered around Dracula, Frankenstein, The Invisible Man (possibly played by Johnny Depp) and Van Helsing. This explains why The Mummy bet big on bringing in Russell Crowe, who'll play the mighty Dr. Jekyll and, we have to assume, his alter ego Mr. Hyde... eventually. We don't know much about why he's in this upcoming movie, or how he'll cross paths with Tom Cruise's character. But when they do, it's going to be bombastic.
The burgeoning franchise, at the very least, has star power. It also looks like it's going to have massive set pieces, including the airplane crash scene that was featured so prominently in the initial trailer (which I'll include below). This new BTS reel released by Universal shows how Tom Cruise and co-star Annabelle Wallis (The Brothers Grimsby) braved a Zero G chamber to replicate the plunging aircraft. Cruise, of course, looks like he's having the time of his life. Because he's a crazy man. But he also knows that the finished product is going to look like this (which is why he does this, time and time again):
So yeah, after this week, we are so on board with The Mummy, and it makes us very excited for the potential of the monster-movie shared universe, if Universal can continue to build up and build out, and attract unexpected A-listers like Tom Cruise and Russell Crowe. It has been made clear that Dracula Untold no longer is part of this experiment, but we also don't know which creature feature might come next in the line. Will it be a rapid ascension to a Van Helsing versus the Monsters mashup? Or is the studio taking its time?
The Mummy stars Tom Cruise, Sofia Boutella, Russell Crowe and Annabelle Wallis. It opens in theaters on June 9, 2017.
Managing Director at CinemaBlend. ReelBlend cohost. A movie junkie who's Infatuated with comic-book films. Helped get the Snyder Cut released, then wrote a book about it.
Your Daily Blend of Entertainment News
Thank you for signing up to CinemaBlend. You will receive a verification email shortly.
There was a problem. Please refresh the page and try again.