Why Will Smith Chose Suicide Squad Over Independence Day 2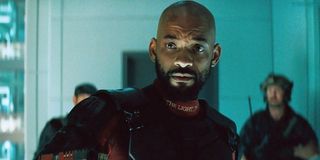 Will Smith found himself at a crossroads a couple of years ago. In front of him he had two scripts. One was for Independence Day: Resurgence. The other was for Suicide Squad. I think you know how this story ends. Because after a few moments of consideration, Will Smith decided that it was better to go down a brand new avenue with Suicide Squad rather than returning as Captain Steven Hiller in Resurgence, so he jumped at the chance to work with David Ayer on the superhero ensemble.
Will Smith recalled making this decision during an interview at Facebook Headquarters on Thursday (via EW) to promote his upcoming turn in Collateral Beauty. Will Smith explained:
This story is a little different to one that director Roland Emmerich has been peddling. The German filmmaker previously insisted during his promotion for the sequel that Will Smith had turned Resurgence down as he didn't want to do four sci-fi films in a row. At the time, the plan was for Independence Day to have sequels that would be shot back to back, while Smith had just finished up on After Earth and Men In Black 3.
It's a decision that probably wasn't easy for Will Smith to make, though. The role of Captain Steven Hiller is one that's very close to the actor's heart as it helped to launch his Hollywood career back in 1996. Independence Day went on to gross $817.4 million 20 years ago, which at the time meant that it was the second highest grossing film of all time.
But in the end, Will Smith decided that he wanted to sink his teeth into a brand new character in the shape of Deadshot. Meanwhile Independence Day: Resurgence proceeded without him and simply killed his character off-screen. While the negative critical response to Suicide Squad might lead you to think that Will Smith made the wrong decision, its $745.6 million box office haul easily eclipsed the $389.7 million made by Independence Day: Resurgence. Plus, Will Smith was also easily the best thing about Suicide Squad, too.
Meanwhile, the fantasy drama Collateral Beauty, which also stars Edward Norton, Kate Winslet, Helen Mirren, Keira Knightley and Michael Pena, will be with us this time next week, as it's due to hit theaters on December 16.