How The Power Rangers Reboot May Change Rita Repulsa And Zordon's Pasts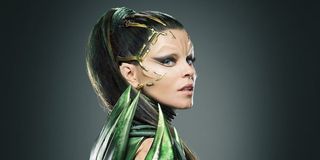 While it's great when a remake/reboot can stay faithful to the tone/spirit of the original product, changes to the source material are inevitable. Just look at Power Rangers, which is re-imagining the Mighty Morphin' Power Rangers TV series from the 1990s. The upcoming reboot is making plenty of changes to the morphenomenal mythology, from how the teenagers with attitude meet to the design of their costumes. Now it's being reported that two other key players in the movie, main antagonist Rita Repulsa (played by Elizabeth Banks) and Zordon (played by Bryan Cranston), will have radically different pasts, as they were apparently Rangers themselves long ago.
In a photo outline detailing what's been revealed about the Power Rangers movie so far, The Wrap mentions how Rita Repulsa, the movie's main antagonist, was a Green Ranger 65 million years ago and Zordon, the present-day Rangers' mentor, was the "original" Red Ranger. It's unclear in the report whether they gained their powers at the same time or if Zordon bequeathed the Green Rangers status to Rita some time he first became the Red Ranger. Regardless, Rita eventually went rogue, and like the Rita from TV over two decades ago, was eventually imprisoned, while Zordon was transformed into a "state of pure energy."
Assuming the above information is true, this is definitely a unusual change to Rita Repulsa and Zordon's backstories. In the TV series, Zordon created the Power Rangers' Power Coins and used them in battle against Rita, but he was never specifically said to have been a Ranger himself. Rita was also never a Ranger, although she did form the Green Power Coin on her own so she could have an evil Ranger at her disposal. Still, Zordon and Rita's Ranger past in Power Rangers would add an interesting dynamic. Rather than simply being cut-and-dry archenemies, the two of them were teammates long ago, but when Rita turned to the dark side, Zordon could have been forced to fight his former ally, and during that battle, presumably that's when Rita was forced into stasis and Zordon turned into his energy form.
As far as Rita Repulsa is concerned, this isn't the first time there's been speculation about her having a closer connection to the Power Rangers in the new movie. If you look at her staff in official images and set photos, it looks like the Green Power Coin is placed at the top. Taking into account this new information, it sounds like the space witch has possibly kept the coin in her possession for all these millennia, and it's serving as either the source of her power or enhancing her natural abilities. Of course, anyone who watched Mighty Morphin' Power Rangers can surmise that she'll eventually lose the coin, and at some point, whether in a post-credits scene or a sequel, it will somehow finds its way to Tommy, turning him into the modern Green Ranger.
Power Rangers hits theaters on March 24, 2017.
Your Daily Blend of Entertainment News
Connoisseur of Marvel, DC, Star Wars, John Wick, MonsterVerse and Doctor Who lore. He's aware he looks like Harry Potter and Clark Kent.