New Power Rangers Photo Shows The Heroes In A Mysterious Setting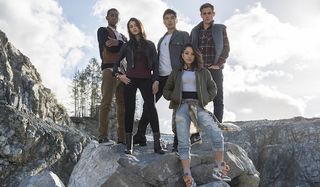 Like all good reboots aim to do with their source material, next year's Power Rangers movie will have a different feel compared to Mighty Morphin' Power Rangers, yet still remain true to the the TV series' spirit. This has been demonstrated in the various looks we've seen so far, from the Rangers' new suits to their redesigned Zords. However, there's still a lot we don't know about how this re-telling will unfold. For instance, the latest Power Rangers image places the five main heroes in an unusual setting. Take a look!
As one last tease before the movie's panel tomorrow at New York City Comic-Con, the Power Rangers social media accounts posted this photo of Jason, Billy, Zack, Kimberly and Trini standing in front of a strange-looking wall. The surrounding area is desolate, and the wall looks like it's made from material not from Earth. It's unclear whether this scene takes place before or after the teenagers get their powers, though I'm guessing it's the former judging by their perplexed expressions.
One possibility is that this wall is part of the Command Center, home to Zordon and Alpha 5, the Power Rangers' allies. In Mighty Morphin' Power Rangers, this base was located in the desert, which is a close match to the environment in the photo. At some point in the story, the Rangers somehow find the Command Center out in the middle of nowhere, leading Zordon to either willingly welcome them within or them finding a way in themselves. This would be a major departure from what happened in the first Mighty Morphin' Power Rangers episode, where Zordon simply teleported them into the base when they were miles away.
On the other hand, this wall could belong to the lair of Rita Repulsa, Power Rangers' main antagonist. In the TV series, she resided in a flashy palace on the Moon (where people could breathe normally), maybe the movie opted to go with a more exotic design. Maybe after getting their morphenomenal powers, the Rangers set out to find her headquarters. Granted, the surrounding area doesn't look like the Moon, but maybe in this continuity, she sets up shop on Earth after awaking from her 10,000 year slumber.
Just like the original TV series, Power Rangers will follow a group of teenagers with attitude who are selected to receive extraordinary weapons and abilities so they can properly protect Earth from alien threats. The heroes consist of Dacre Montgomery as Jason the Red Ranger, Becky G as Trini the Yellow Ranger, RJ Cyler as Billy the Blue Ranger, Naomi Scott as Kimberly the Pink Ranger and Ludi Lin as Zack the Black Ranger. The movie's other prominent players include Elizabeth Banks as Rita Repulsa, Bryan Cranston as Zordon and Bill Hader as Alpha 5.
Power Rangers morphs into action on March 24, 2017.
Connoisseur of Marvel, DC, Star Wars, John Wick, MonsterVerse and Doctor Who lore. He's aware he looks like Harry Potter and Clark Kent.
Your Daily Blend of Entertainment News
Thank you for signing up to CinemaBlend. You will receive a verification email shortly.
There was a problem. Please refresh the page and try again.