The Incredible Pitch That Helped Guardians Of The Galaxy Director James Gunn To Land The Job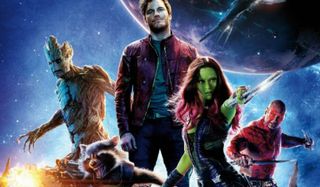 Before the trailer for Guardians Of The Galaxy was released back in the summer of 2014, some naysayers were speculating that the blockbuster could be a flop for Marvel. That's because the comic which it is based upon was very much a cult commodity, Chris Pratt was primarily known as the fat funny man from Parks & Recreation, and James Gunn's previous films Slither and Super, while superb, had both failed to haul back in their gross at the box office.
But Guardians Of The Galaxy proved to be a financial and critical hit, thanks in part to Chris Pratt's innate likability and James Gunn's wacky humor, voice, and entertaining direction. Gunn has now taken to social media to upload the first presentation packet that he made for Marvel Studios for Guardians of The Galaxy, and it shows why they had such much faith in him for the gig.
After uploading the above to his Instagram account, which depicted part of Star-Lord's opening scene in the film, James Gunn also took to Facebook to post more pictures from this sequence, alongside the revelation that "Morag was formerly Mazar" and his "shot-lists are always this wordy."
Just in case the above gave you a hankering to watch the opening sequence from Guardians Of The Galaxy once again I've got you covered. Because you can satisfy this need by clicking on the video below, and having a boogie alongside Chris Pratt's Star-Lord.
While Guardians Of The Galaxy is still a delight to go back and watch again and again, it's firmly in the rear-view mirror for the Marvel Cinematic Universe. In fact the very near future will see a further adventure from the intergalactic posse, as Guardians Of The Galaxy Vol. 2 is just a couple of months away. Watch the trailer below to remind yourself of why audiences are so excited for the blockbuster.
Divine. Simply divine. Guardians Of The Galaxy Vol. 2 will finally be with us on May 5, 2017.