How Many Assassin's Creed Movies Michael Fassbender Thinks They Will Make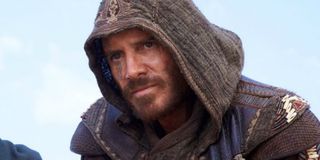 Any film that costs a studio somewhere between $130 and $200 million to make is going to require some sequels. Hopefully. If the first movie loses money, then the studio will cut their losses and move onto greener pastures. But since 20th Century Fox spent the above sum on Assassin's Creed they're hoping that it will be the first of many more to come. Rather than being a potential cinematic universe that goes on and on and on and on, ala Marvel and Star Wars, Michael Fassbender confided in me that the plan is to just turn Assassin's Creed into a trilogy.
I had the great pleasure of sitting down with Michael Fassbender earlier this week to talk all things Assassin's Creed at the New York City press junket for the film. During our chat I asked the Academy Award nominated actor (Steve Jobs) whether this would be the last time we'd get to see him as Callum Lynch and Aguilar de Nerha, to which Michael Fassbender responded,
It's no surprise that Michael Fassbender wants to continue on with Assassin's Creed, as he's been involved with the franchise since back in July 2012 when he originally signed up to both star and co-produce the film. In fact, after two years of trying to find the right filmmaker to take it forward and repeated re-writes of the script, it was Michael Fassbender who asked director Justin Kurzel and Marion Cotillard, both of whom he'd just worked with on Macbeth, to join him on Assassin's Creed. They'd both agreed to do so by February, 2015, and now we're just a few days away from it being released.
You can get yourself even more excited for the impending release of Assassin's Creed by having a gander at its rather scintillating trailer below.
Want more footage? Good, because he's a brief little snippet from my chat with Michael Fassbender where he talks about the expansion of the Assassin's Creed franchise. Quick WARNING, though: I decided to cut the opening line out from the above block quote because it's a bit of a SPOILER regarding the end of Assassin's Creed. So only watch below if you don't mind the end of Assassin's Creed being ruined for you.
Assassin's Creed is now just a few days away from release, as it will finally be in cinemas on December 21.
Your Daily Blend of Entertainment News
Thank you for signing up to CinemaBlend. You will receive a verification email shortly.
There was a problem. Please refresh the page and try again.