Mortal Kombat Honest Trailers Prove How Truly Awful Video-Game Movies Can Be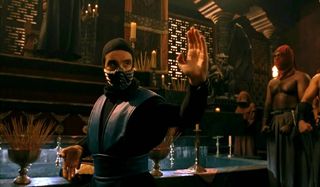 The first reviews for Assassin's Creed have started to roll in, and it's already clear that the Michael Fassbender led video-game adaptation hasn't brought an end to the video-game curse that has blighted the genre for decades. But this isn't the first, and it won't be the last time that we're disappointed by a video-game adaptation on the big-screen. One of the first video-games to ever be brought to the big screen and disappoint was Mortal Kombat back in 1995, while its 1997 follow-up Mortal Kombat: Annihilation was even worse. The good folks over at Honest Trailers have compiled a helpful video that uses these films to show us exactly how bad the genre can be, and they provide plenty of ammunition. You can watch it in all of its glory below.
Wow. That was rough. Why are there so many rules to Mortal Kombat? Surely the only rule is to cause the most extreme and gory pain to your opponent, which you then follow with a celebratory dance to mark your success.
That's another problem. There's a distinct lack of blood, which considering just how bloody the video game was seems like a complete betrayal of its source material.
But this isn't the only problem with Mortal Kombat. There are many, many more, all of which combine to make both Mortal Kombat films so atrocious that you can't even go back and laugh and poke fun at them. Because even though there's a copious amount to heartily dismiss and chortle at, after a while you find yourself struggling to fathom how someone could write, shoot and release Mortal Kombat without being warned not to.
One of the main reasons why both Mortal Kombat films were severely spanked critically was the acting. To be fair to the powers over at Midway Games, who were in control of the Mortal Kombat franchise, this was something that they tried to address- because almost all of the original cast from the first film didn't return for Annihilation. The plan didn't work though, because while Mortal Kombat was far from a critical darling as it only scored 33% on Rotten Tomatoes and grossed $122.1 million, its follow-up fared even worse, grossing $51.3 million and scoring the paltry amount of 3% on Rotten Tomatoes.
But let's not just blame Mortal Kombat's failings on the acting. Its preposterously awful CGI, which looks as though it was created on a Gameboy rather than an actual computer, is right down there with the worst things to ever be committed to film, while the generic martial arts battle sequences and costumes that looked like they were stolen from a Halloween store all contributed to its downfall. Still, it has a kick-ass theme song, though.
You can now see for yourself if Assassin's Creed finally brings an end to the curse of the video-game adaptation as it's now in cinemas.
Your Daily Blend of Entertainment News
Thank you for signing up to CinemaBlend. You will receive a verification email shortly.
There was a problem. Please refresh the page and try again.