Cameron Diaz Almost Starred In The Mortal Kombat Movie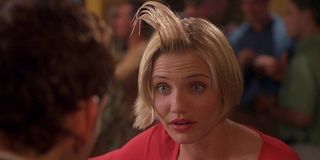 In 1995, Mortal Kombat hit number one at the box office and became one of the first financially successful movies based on a video game (before that were the likes of Double Dragon and Super Mario Bros.). As with most movies, it endured many changes on the journey from stage to screen, and one character in particular was almost played by a young up and comer named Cameron Diaz.
To mark the 20th anniversary of Mortal Kombat, The Hollywood Reporter talked to many of the behind the scenes players and put together an oral history, a kind of from-their-mouths retrospective about the trials and tribulations of the production. When the subject of putting together the cast came up, producer Lauri Apelian revealed this:
You may remember Bridgette Wilson-Sampras from such movies as Billy Madison and I Know What You Did Last Summer (she hasn't appeared in anything on screen since 2008). While she had a nice career, it was nothing like the meteoric rise Cameron Diaz experienced shortly after. Following her supporting role in The Mask opposite Jim Carrey, she went on to star in movies like There's Something About Mary, the Charlie's Angels films, and countless others, becoming one of the biggest stars in Hollywood.
While not a runaway success, especially by today's standards, in 1995, Mortal Kombat was a huge step forward for video game movies. They're still an iffy proposition (though that's never stopped Hollywood from trying, as we've got things like the long-gestating Assassin's Creed movie on the way), but in the '90s it was damn near impossible.
Based on a game where the players rip out each other's spines, the tamed down, PG-13 version debuted at number one at the box office (it totally annihilated The Babysitter's Club, the other new release that weekend) and went on to earn more than $122 million worldwide. Critics savaged the film, dismantling its weak plot and cheesy visuals, though many admitted that the demographic they were going for would be pleased and satisfied, despite a noticeable lack of blood and viscera.
Director Paul W.S. Anderson went on to make video game adaptations the bread and butter of his career, as he is the primary architect behind the Resident Evil franchise starring his wife, Milla Jovovich. He has helmed three of those films, and is currently ramping up to the sixth and final chapter, appropriately titled Resident Evil: The Final Chapter. Those movies have been very successful financially, using many of the tricks and tools Anderson first employed on Mortal Kombat.
Your Daily Blend of Entertainment News
Thank you for signing up to CinemaBlend. You will receive a verification email shortly.
There was a problem. Please refresh the page and try again.