What To Expect From Sophia In Assassin's Creed 2, According To Marion Cotillard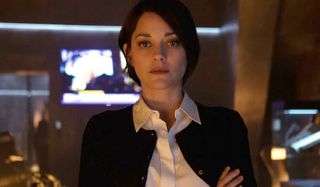 The following contains HEAVY SPOILERS for Assassin's Creed from the get go, including full details of its conclusion. So you shouldn't read ahead if you haven't seen the latest attempt to cure the video-game curse.
Come the end of Assassin's Creed, Marion Cotillard's Sophia Rikkin is in a bit of a pickle. Not only has her father, who also just so happens to be her boss and the CEO of Abstergo Foundation, Jeremy Irons' Alan Rikkin being murdered, but he was killed by Callum Lynch (Michael Fassbender), who acquired his assassin skills from the Animus project she designed. As such, Marion Cotillard has now suggested that Assassin's Creed 2 will see her character become rather unhinged because of this conclusion.
Marion Cotillard made this admission to me when I sat down to talk about Assassin's Creed with the Academy Award winning actress (La Vie En Rose). After I quizzed Marion Cotillard about where Assassin's Creed leaves Sophia Rikkin, she remarked:
The ending to Assassin's Creed certainly leaves Sophia Rikkin's world in upheaval, while she has to watch as Callum Lynch, who has now transformed into a fully-fledged assassin, and two fellow assassins, including Michael K. Williams' Baptiste, roam the rooftops of London, while her father lies dead in front of her. So, clearly, there's plenty of story left to explore between Callum and Sophia.
But what are the chances that Assassin's Creed will actually get any sequels? Michael Fassbender recently admitted to me that the plan is for Assassin's Creed to expand into a trilogy, but those plans have been slightly scuppered since its first outing was met with a huge sway of negative reviews, and currently holds a score of just 17% on Rotten Tomatoes.
In fact, Assassin's Creed is only projected to make somewhere between $25-$35 million at the box office over its first six days, meaning that it'll have to do very well to get to $100 million domestically. Assassin's Creed's international box office, which could be hefty considering the game's worldwide popularity, will have to cover this deficit just to make its $125 million budget back, while it already looks unlikely that further films will be ordered. So you better appreciate Assassin's Creed while it's in theaters, starting with its trailer below.
Meanwhile, you can check out part of my chat with Marion Cotillard regarding Assassin's Creed underneath, too.
Assassin's Creed is now in cinemas everywhere.
Your Daily Blend of Entertainment News
Thank you for signing up to CinemaBlend. You will receive a verification email shortly.
There was a problem. Please refresh the page and try again.