Read The Touching Carrie Fisher Tributes From Her Star Wars Castmates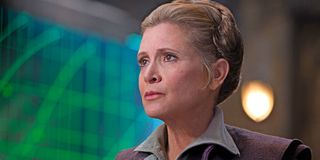 The world was saddened today when legendary actress Carrie Fisher, 60, died after suffering a heart attack a few days ago. Now, some of her famous Star Wars cast mates are letting the world know how they feel about the loss. Take a look.
Harrison Ford, who co-starred with Fisher in four Star Wars films, including last year's The Force Awakens, gave a statement to People magazine about her death.
Actor Billy Dee Williams, who is, perhaps, best known for his role as Lando Calrissian in both The Empire Strikes Back and Return of the Jedi, was one of the first to take to Twitter and voice his sadness over the loss of Carrie Fisher.
Fisher shot to stardom because of her role as Princess Leia Organa in the original Star Wars film. It was a role that she would reprise four times; she most recently appeared as the beloved character in Star Wars: The Force Awakens in 2015, and completed her work on the upcoming Star Wars: Episode VIII over the summer.
Anthony Daniels, who has played C-3PO in the Star Wars films, also posted on Twitter when he found out about Fisher's passing today.
Anthony Daniels was clearly looking forward to hearing that Carrie Fisher would make a full recovery soon, like many of us. After hearing that she'd suffered a heart attack during a flight last Friday, word went out that she was in stable condition later that day, and we had all hoped that our prayers had been answered.
Andy Serkis, who portrayed Supreme Leader Snoke in Star Wars: The Force Awakens and Star Wars: Episode VIII, also gave a tribute to Carrie Fisher via Twitter, calling her "a beautifully honest and unique human being." He was, clearly, shocked by the news of her passing, as we all have been.
Warwick Davis, known to Star Wars fans as Wicket the Ewok in Return of the Jedi, but who's also had roles in The Phantom Menace, The Force Awakens, Rogue One and Episode VIII, also spoke out about the loss of Carrie Fisher today, and it's obvious he has some fond memories of her.
Actor David Prowse, otherwise known as the man behind Darth Vader's mask in the original trilogy, also let the world know how he feels about the loss of Carrie Fisher, and gave his condolences.
Finally, Mark Hamill took to Twitter with the simplest tribute for Carrie Fisher.
Mark Hamill, who, of course, is known for his part as Luke Skywalker, Leia's brother, in the Star Wars films, is clearly shaken by the news of Carrie Fisher's death. It's clear that the actress and writer made quite an impact on all who knew her and on her fans. She will be missed.
You can head on to the next page to see what Lucasfilm President Kathleen Kennedy, Disney Chairman and CEO Bob Iger and others involved in the Star Wars series had to say today about Carrie Fisher and her untimely passing.
Bob Iger later posted to Disney's Facebook page with this message:
A post on the official Star Wars website features George Lucas' thoughts on Carrie Fisher:
J.J. Abrams, who directed Fisher in The Force Awakens, posted his thoughts on Twitter:
Bachelor Nation, Gilmore Girl; will Vulcan nerve pinch pretty much anyone if prompted with cheese...Yes, even Jamie Fraser.
Your Daily Blend of Entertainment News
Thank you for signing up to CinemaBlend. You will receive a verification email shortly.
There was a problem. Please refresh the page and try again.