Star Wars Petition Wants Leia To Be An Official Disney Princess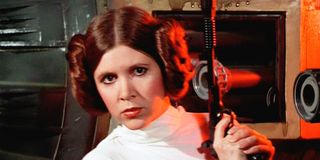 Following the tragic loss of Carrie Fisher on December 27, four days after she suffered a heart attack, Disney and Lucasfilm are scrambling to figure out what to do with her Star Wars character, Princess Leia Organa. In the meantime, many fans are looking to bestow a special honor upon the Rebel/Resistance leader. Since 2012, Star Wars has been part of the Disney family, and now there's a call to make Leia one of the studio's official Princesses.
A petition on Change.org is asking Disney, specifically CEO Bob Iger, to add Princess Leia as a full-fledged Disney Princess, specifically by ignoring the rule that such royalty needs to be animated. The petition's description states that this would be the best way to honor Carrie Fisher, as well continue to add more Disney cree to the Star Wars franchise. To that end, the supporters would like a "full ceremony" inducting Leia as a Disney Princess, as well as a "special service in memory of Carrie Fisher." At the time of this writing, the petition has gathered over 48,000 supporters. If Leia were to become a Disney Princess, she would share the honorable title with the likes of Snow White, Cinderella, Belle and Mulan, to name a few. You can see the current Disney Princess lineup below.
While princess protagonists have been a staple in the Disney lore since Snow White and the Seven Dwarves was released in 1937, the official franchise line wasn't created until the early 2000s. Rapunzel and Merida are the most recent ones to be added, both hailing from CGI movies rather than traditionally animated, but Princess Leia would be a radical departure from the bunch since she's primarily known for her live action appearances in the Original Trilogy and The Force Awakens. However, Leia technically has the animated criteria covered, as she appeared in an episode of Star Wars Rebels last year.
Although it might seem weird at first to see Leia Organa alongside the traditional Disney Princesses, it wouldn't be unprecedented from a synergetic perspective. After all, the Disney theme parks have been incorporating more elements from a galaxy far, far away, and Marvel, a fellow Disney property, has been publishing Star Wars comic books since the beginning of 2015. That said, these Change.org petitions are rarely successful when it comes to fan-favorite intellectual property, and even if this does catch the attention of top Disney brass, if they want to keep Star Wars separated from this area of the Disney empire...sorry, kingdom, a petition won't change that. Still, there's nothing wrong with throwing your support behind this noble way to pay tribute to Carrie Fisher.
Carrie Fisher will be seen as Princess Leia one last time when Star Wars: Episode VIII hits theaters on December 15, but there's no word yet on how the character will be handled for Episode IX in 2019. For now, if you are especially keen on Leia joining the Disney Princess ranks, make sure to add your "signature" to the petition.
Your Daily Blend of Entertainment News
Connoisseur of Marvel, DC, Star Wars, John Wick, MonsterVerse and Doctor Who lore. He's aware he looks like Harry Potter and Clark Kent.
Your Daily Blend of Entertainment News
Thank you for signing up to CinemaBlend. You will receive a verification email shortly.
There was a problem. Please refresh the page and try again.