Disney Is Making A Live-Action Snow White, Get The Details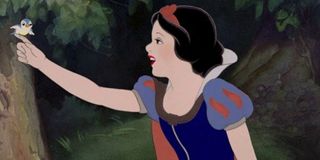 In news that will not come as much of a surprise to Disney fans, the studio is developing a live-action version of Snow White. Disney has had great success in recent years remaking their animated classics, with Alice In Wonderland, Maleficent, Cinderella and The Jungle Book all huge box office triumphs. Beauty And The Beast, Mulan, The Lion King, Dumbo and Aladdin are now in various stages of production, while the talent that's attached to Snow White has already piqued out interest in their latest remake, too.
That's because according to The Hollywood Reporter, Disney has brought Erin Cressida Wilson, who most recently adapted The Girl On The Train for the big-screen, on board to pen Snow White. Erin Cressida Wilson has also written the likes of Secretary, Fur: An Imaginary Portrait Of Diane Arbus and Chloe, too, while this will be his foray into more child-friendly cinematic territory.
Much like Disney's plan with Mary Poppins Returns, Snow White will feature brand new original songs and it has already been confirmed that it will be a musical. THR also revealed that the story and the music from the 1937 original will be expanded upon, too. Mary Poppins Returns' producer Mar Platt is attached to produce Snow White, too.
The men tasked with trying to top the likes of "Heigh Ho" and "Whistle While You Work" are Benj Pasek and Justin Paul. The duo are currently unknowns to most movie fans, but they've flourished in musical theatre, composing and writing the songs for A Christmas Story, The Musical, Dogfight, Edges, James And The Giant Peach and Dear Evan Hansen, while they also wrote some songs for TV's Smash, too.
However, you can expect to hear plenty more about them in the upcoming years, starting in the next few weeks with La La Land. Damien Chazelle's follow-up to Whiplash has already been earning rave reviews since it premiered at the Venice International Film Festival in August, and the pair wrote the lyrics for the musical, with Justin Hurwitz writing the music. Pasek and Paul also wrote the song "Get Back Up Again" for Trolls, as well as the songs for Hugh Jackman's Greatest Showman over at Fox. They've achieved all of this before turning 32. The talented bastards.
Snow White is arguably Disney's most iconic movie. Based on the Brothers Grimm fairy tale, it was the studio's first animated feature film, and it won an honorary Academy Award at the 11th Oscars. It features numerous songs that have become etched in pop culture history, while there have been numerous spin-offs and retellings of the story in the years since.
In fact, over the last five years there was 2012's Mirror Mirror and Snow White And The Huntsman, which had its own sequel released back in April, and TV's Once Upon A Time. It's also worth noting Disney previously announced earlier this year that they're also developing a live-action adaptation that instead focuses on Snow White's sister Rose Red. Considering the way that studios are always on the hunt for potential franchises and universes, there's every chance that Rose Red and Snow White might ultimately crossover, too.
Your Daily Blend of Entertainment News