Disney Is Making A Live-Action Mulan, Get The Details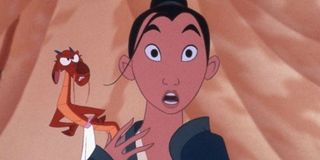 Disney have decided to follow-up the rousing success of Cinderella earlier this month with yet another live-action re-telling of one of one of the company's beloved animated films. It's been officially announced that they've decided to give Mulan the updated big screen treatment.
The Hollywood Reporter was the first to reveal Disney's plans, and they've also announced that Elizabeth Martin and Lauren Hynek have been brought on to write the new Mulan. J.C. Spink and Chris Bender will produce the live-action remake too.
Their job will be to adapt 1998's Mulan for a modern audience. And it will be a hard act to follow. Mulan tells the story of Fa Mulan, a young woman who decides to dress and disguise herself as a man in order to join the Chinese army in place of her elderly father. After her family learns of Mulan's decision to become a soldier, her Grandmother prays to the family ancestors to protect her. They order a "Great Stone Dragon" to do just that, however they are unaware that instead of the Great Stone Dragon a small dragon by the name of Mushu comes to life instead.
Mulan was met with widespread critical acclaim when it was theatrically released, and amassed an impressive box-office haul of just under $305 million. It was also rewarded with Golden Globe and Academy Award nominations. In 2005, Disney oversaw the straight to DVD release of Mulan II - which (shockingly) failed to match the original's success. This was mostly down to the absence of Eddie Murphy. The comedian took the role of Mushu in the original Mulan, and he brought an edge, energy and vibrancy to the film almost three years before he'd bring the same traits to DreamWorks' Shrek franchise. Of course, adapting this character into live-action may prove to be extremely difficult. Hopefully the new movie doesn't just ignore Mushu in the same way that Kenneth Branagh's Cinderella cut out the talking mice.
It's no surprise that Disney has once again decided to give one of their original animated films the live action treatment. Cinderella has thus far managed to amass over $330 million across the globe in just three weeks, while it's also been praised for its bright and glorious visuals that helped to bring the magic and spirit of the original Disney film to a new audience. But this was just the latest Disney live-action film to have been both re-imagined and experience glorious success. Back in 2010, Tim Burton's Alice In Wonderland managed to overcome its mediocre reviews to take in a whopping $1.02 billion, while Angelina Jolie's Maleficent grossed $758.4 million worldwide last year too.
After these triumphs, it was always likely that Disney would continue this trend, and their upcoming live-action adaptations of Beauty and the Beast, The Jungle Book and Dumbo prove that they've jumped at the opportunity to do just that.
Your Daily Blend of Entertainment News
Thank you for signing up to CinemaBlend. You will receive a verification email shortly.
There was a problem. Please refresh the page and try again.