The Star Wars Character Carrie Fisher Originally Wanted To Play The Most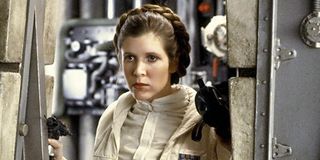 Following her untimely death at the end of 2016, tributes have rightfully been pouring in for Carrie Fisher. While her work as a writer, humorist, and her turns in When Harry Met Sally..., Hannah And Her Sisters and The 'Burbs have been praised, it's her performances as Princess Leia in the Star Wars franchise that secured her place in pop culture infamy. But things could have been much different, because it has now been revealed that Carrie Fisher originally wanted to portray Han Solo.
Carrie Fisher herself made this admission during a previous interview with SFX Magazine (via Games Radar), revealing that when she originally read the script for Star Wars: Episode IV -- A New Hope, she immediately saw that the galaxy's most famous smuggler was the best part. Carrie Fisher explained,
Now what a movie that would have been. Since Carrie Fisher's performances as Princess Leia in A New Hope, The Empire Strikes Back, Return Of The Jedi, The Force Awakens and for just a little bit in Rogue One are already regarded as some of the most iconic to ever be committed to celluloid, it's safe to say that she'd have done just as sterling a job as Han Solo, too.
Of course, history didn't quite work out that way, and Harrison Ford was ultimately cast in the part. Harrison Ford and Carrie Fisher, who were aged 35 and 19, respectively, at the time, bounced off of each other delightfully on-screen, too, with Fisher's feisty attitude going on to inspire countless cinemagoers. But while we can now look back on Carrie Fisher's performance in A New Hope with glee, Fisher also admitted in the same interview that she was certain she was going to get fired throughout its whole production.
Carrie Fisher was made so insecure because she was told that she needed to lose 15 pounds after being cast as Princess Leia, and soon after she constantly assumed she was about to be replaced. In the same interview Carrie Fisher admitted that she thought George Lucas or one of the Star Wars producers would figure out that "they'd make a mistake" and then dismiss her.
Thankfully, for cinema's sake, they didn't do that. Once the entire world saw Star Wars: Episode IV -- A New Hope back in 1977, audiences were instantly taken with her, and she soon went on to become a treasure that the whole galaxy adored, which stretched beyond her performances. And that made Carrie Fisher's passing on December 27 at the age of 60 all the harder to take.
Your Daily Blend of Entertainment News
Your Daily Blend of Entertainment News
Thank you for signing up to CinemaBlend. You will receive a verification email shortly.
There was a problem. Please refresh the page and try again.