Home Alone Scenes With Blood Are Way More Disturbing Than You'd Think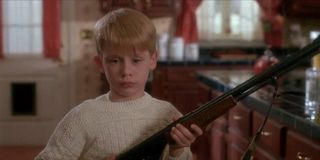 Few holiday movie franchises have managed to carve out a legacy quite like Home Alone. After all, it is Die Hard for kids. What's not to love about that? That said, there's one aspect of the series that fans have always managed to gloss over: the fact that there's no blood at all. With that in mind, a series of YouTube videos have debuted online showing more realistic results for Kevin McAllister's traps, and they are absolutely brutal. Check out one of the videos below and prepare to wince.
It is honestly pretty amazing what dedicated fans can pull off if they have a little bit of editing expertise and a decidedly demented sensibility. That video utilizes a simple yet compelling premise, and it really puts Kevin's actions throughout the Home Alone movies into perspective. Sure, the Wet Bandits might not be great guys, but the traps set by this little kid are downright sadistic. The look on Marv's face after being struck by a metal pipe was particularly gruesome, and certainly would've bumped up Home Alone 2's MPAA rating if the film had used these effects.
You really need to take a long, hard look at these videos. Kevin's actions against these two thieves would undoubtedly kill them. Just look at the distance from which he throws this brick:
Of course, it's worth noting that Kevin is not the only one with blood on his hands in these videos. One of the clips also allows Old Man Marley to get in on the action as well, and it is hard to imagine that Kevin would not need therapy after seeing the way his neighbor deals with these two burglars.
Spoiler alert: it's not for the faint of heart.
There's something undeniably hilarious about these clips that I cannot quite put my finger on. Perhaps it's the extreme Quentin Tarantino-esque violence of it all, or perhaps it has something to do with the corruption of a childhood classic. Honestly, I think it might be both of those things in equal measure. If someone out there wants to make an R-rated remake of Home Alone and utilize this insane level of violence, I will be the first person in line to buy myself a ticket.
What do you think of these fan-made videos? Are they hilarious, disturbing, or a little bit of both? Give us your thoughts in the comments section below to let us know what you think of this utterly bizarre Home Alone video series!
Your Daily Blend of Entertainment News
Originally from Connecticut, Conner grew up in San Diego and graduated from Chapman University in 2014. He now lives in Los Angeles working in and around the entertainment industry and can mostly be found binging horror movies and chugging coffee.
Your Daily Blend of Entertainment News
Thank you for signing up to CinemaBlend. You will receive a verification email shortly.
There was a problem. Please refresh the page and try again.