10 Awesome Throwback Movies To Show Your Kids If They Dig Monster Trucks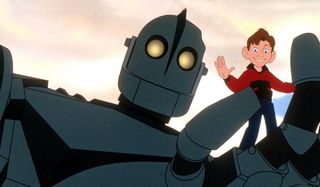 You might find it hard to believe, but Monster Trucks is a surprisingly good movie. At least, it is when you take into account the fact that it leans heavily on the formula of plenty of 80's and 90's kids flicks. So naturally, if you, your kids, or whomever you saw the movie with enjoyed Creech and Tripp's antics, then there's a good slew of material you could watch afterwards to keep the action going.
We'll start you off with a list of 10 throwback favorites of ours that capture the offbeat, yet lovable nature that Monster Trucks revels in. Some of these may be familiar, others brand new to you, but all worth an afternoon of popcorn and laughter.
*batteries not included
Back in the day, Steven Spielberg took a script co-written by first-time screenwriter Brad Bird and executive produced the film *batteries not included. That sentence alone should tell you why this is a favorite of ours, as both men are obviously kings of the family entertainment genre. The story of an apartment building being watched over by some adorable miniature spaceships, it's an 80's classic that barely gets talked about, but shines with charm throughout.
Heavyweights
The humor in a lot of kids movies dances between too snarky and too "adorable," but Heavyweights manages to outclass pretty much all of its peers with genuine humor. The main reason for this is due to the fact that modern-day comedic talent Judd Apatow happened to co-write the script, and the film's cast included Paul Feig, Kenan Thompson, and, most famously, Ben Stiller. A summer at fat camp has never been warmer or funnier.
Free Willy
Thinking back to the first time you watched Free Willy, you can almost remember thinking that this was going to be another "dumb" animal movie. But throughout the film's events, it actually finds itself going from a cliched animal movie to a pretty good movie, that just happens to have some cliches and animals. Out of all of the 90's films involving both children and creatures, this was definitely one of the better ones.
Jumanji
Talking about kids movies throughout the past couple of decades requires you bring up something from the canon of the late Robin Williams' work. The man knew how to play to all age groups without losing a step, and Jumanji is one of the best examples of his work. Of course, with an ensemble that includes David Alan Grier, Bebe Newirth, and Bonnie Hunt, he certainly had a lot of help keeping the parents in their seats, while their kids enjoyed the high adventure of a board game gone awry.
The Iron Giant
Back to Brad Bird again, as his directorial debut, The Iron Giant, is one of those stories that flopped upon first release, but fast became somewhat of a classic as time went on. Adapted from an obscure sci-fi book from the 60's, the animated film shows a young boy and his relationship with a gigantic robot through that turbulent era of homefront politics. The bond between a boy and his friend from out of town is strong in Monster Trucks, and it's just as strong in The Iron Giant.
Small Soldiers
If there was ever a director that "got" how to make a kids movie, it's Joe Dante. A lifelong fan of sci-fi and B-movies from his childhood, Dante applied those sensibilities to things like toys, aliens, and creatures of all walks. Small Soldiers sees him playing around with some homicidal toys, and their peacenik counterparts, and it's one of his most undervalued films. Between the impressive special/visual effects action, and the quippy nature of the film, tweens and teenagers are better suited for this sometimes dark trip to the toy store.
Explorers
The second of three Joe Dante films on this list, Explorers is an even more obscure film than Small Soldiers, and it shows more of Dante's B-movie roots. Part love letter to 50's sci-fi and part "totally 80's" kids fantasy, a trio of young boys (which includes young Ethan Hawke and River Phoenix) build a makeshift spaceship, and get into some well-minded trouble. More of the traditional mold of 80's kids films, Dante's quip-fueled humor is present to help make this something that's both unique and familiar.
We're Back: A Dinosaur's Story
Dinosaurs are one of those things that kids almost always get into at a young age, so for kids of the 90's there were two landmark films that fueled that obsession: Jurassic Park and We're Back: A Dinosaur's Story. The latter is a more animated, less intense experience for all ages, which shows a handful of dinosaurs given intelligence and paired with two kids to stop a madman from ruining society. Oh, and did we mention John Goodman's the lead dinosaur, a Tyrannosaurus Rex? Bet you're digging through your childhood VHS tapes to find it now, aren't you?
The Hunchback Of Notre Dame
For every successful Disney animated film, there's a handful of movies that never reached the heights that Frozen or Beauty and The Beast ever did. The Hunchback of Notre Dame is one of those unsung heroes of the 1990's, as it adapts Victor Hugo's tale of being an outsider of pure heart against a zealot of pure rage. It's animated as beautifully as the music is sung, and it fits the outcast mold that Monster Trucks has picked up and run with.
Gremlins
Ok, so a list of comedic kids movies featuring mischief, creatures, and hijinks automatically needs an entry for Gremlins. This film pretty much wrote the book for the genre, and again, Joe Dante comes through with a movie that wows with a combination of special effects, laughter, and some darker elements. It's ok, you can still watch this one with your kids. Just be sure to keep the lights on, the water stowed away, and try to prevent any midnight snacking.
Your Daily Blend of Entertainment News
Senior Movies Contributor
CinemaBlend's James Bond (expert). Also versed in Large Scale Aggressors, time travel, and Guillermo del Toro. He fights for The User.
Your Daily Blend of Entertainment News
Thank you for signing up to CinemaBlend. You will receive a verification email shortly.
There was a problem. Please refresh the page and try again.