Jake Gyllenhaal Explains How Gravity Is A Real Villain In The Sci-Fi Thriller Life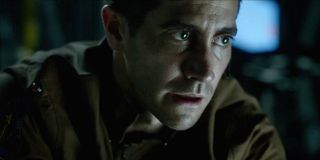 In an upcoming movie schedule that's once again packed with sequels and spin-offs, Life really does stand-out. Not just because of its stellar cast of names, lead by Jake Gyllenhaal, Ryan Reynolds, and Rebecca Ferguson, but also because it looks like a merging of Gravity and Alien that's set to be wholly unique, imaginative and terrifying in its own right. Back in August, I chatted with Life's ensemble about the project, and Jake Gyllenhaal explained how the true terror of the film doesn't just pose a physical threat, but a psychological one, too.
For those of you that don't know, Life takes place entirely on the International Space Station and revolves around the first discovery and interaction with an alien specimen. It doesn't go well. Because Life unfolds entirely in zero-gravity, the characters on-board the International Space Station are unable to escape from the specimen on feet, and instead have to swim through the air. But Jake Gyllenhaal insisted that Life's villain isn't just the life-form wreaking havoc, as its dread comes in several other forms, too.
From the sound of things, the discovery of this alien life-form doesn't just put the International Space Station in immediate danger from the specimen itself, but it also begins to tear the crew apart, too, as they try to figure out how best to deal with it. Which is especially terrifying as Life's producers told us that the entire film unfolds on the ISS, so there's no chance of escape. You can get a brief taste of Life by checking out its trailer below.
As well as Ryan Reynolds, Jake Gyllenhaal and Rebecca Ferguson, the cast for Life is rounded off by Hiroyuki Sanada, Ariyon Bakare, and Olga Dihovichnaya. We don't have long until Life is with us and we get a better peak at the specimen, too, as it will finally be released on March 24.
Your Daily Blend of Entertainment News
Your Daily Blend of Entertainment News
Thank you for signing up to CinemaBlend. You will receive a verification email shortly.
There was a problem. Please refresh the page and try again.