Ryan Reynolds To Reteam With Deadpool Writers For A Different Project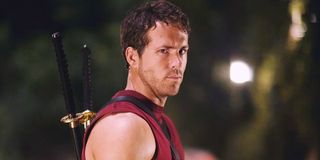 Over the last few days Deadpool smashed February box office records, and it now looks as though it's going to be Ryan Reynolds' highest ever gross as an actor. Because of this success, thoughts have turned to the next stage of Reynolds' career. Deadpool 2 is already a certainty, and now it looks as though the actor will turn to Life, written by Rhett Reese and Paul Wernick, the scribes behind Deadpool.
According to Deadline, Ryan Reynolds was actually in discussions with Skydance Productions about appearing in Life before the release of Deadpool. Obviously, Deadpool's $282.2 million gross over its opening weekend has solidified Reynolds' hold on the part and upped his cache as a star.
They'll need Ryan Reynolds' star-appeal to be working overdrive, because Life has been described as a big-budget blockbuster that revolves around a crew from the International Space Station, who, after retrieving a sample from Mars, discover signs of intelligent alien life. But the crew's joy at making this discovery immediately turns to dread when the intelligent life proves to be much smarter and more cunning than they realized. One can only imagine that this is going to end badly for the crew.
Our best hope is that it will be a perfect merging of two of Ridley Scott's finest films: 1979's Alien and his 2015 entertaining disaster epic The Martian. The latter, although it's far from a comedy, despite what the people over at the Golden Globes think, was an intelligent, dense, and still thoroughly captivating exploration of how someone could survive, alone, on Mars.
There's still not too much for us to really work off from this minimal information regarding Life. However, it has the raw ingredients to be something truly captivating, with a promising young director, top-notch leading lady, and, now, Ryan Reynolds attached.
Life is pretty far along in the development stage. Daniel Espinosa, who previously oversaw the Ryan Reynolds-led Safe House, is already attached to direct, having agreed terms with the studio last November. Sure Child 44 was a flop, but Espinosa's Snabba Cash (Easy Money) and Safe House showed enough potential, and Life certainly has an intriguing premise that he can hopefully make tense and thrilling.
Life's female lead is already secure too, with Mission: Impossible - Rogue Nation's Rebecca Ferguson having signed up to participate. Ferguson chose the role after shooting straight to the top of casting lists following her performance opposite Tom Cruise in last summer's mega-hit. Ferguson recently worked opposite Michael Fassbender on the crime drama The Snowman, while she will also film the mystery thriller The Girl On The Train with Emily Blunt, and hopefully be back for Mission: Impossible 6.
In the end, despite the recent flops that Ryan Reynolds has been attached to (Green Lantern, R.I.P.D.) the decision to re-team Deadpool's writers with its leading man was probably a simple one for Skydance Productions. As the studio will undoubtedly see the potential for Life to piggy-back off Deadpool's monumental success come its release date, which is likely to be in either late 2017 or 2018.
Your Daily Blend of Entertainment News