This Rotten Week: Predicting The Great Wall, Fist Fight, And The Cure For Wellness Reviews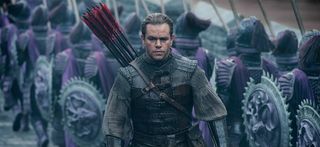 Just like last week, this upcoming weekend will see some big releases arriving in theaters... though that doesn't necessarily mean it's a group full of good movies. Big and glossy doesn't always mean watchable. We'll be checking out The Great Wall, Fist Fight and A Cure for Wellness. It's gonna be a Rotten Week!
Just remember, I'm not reviewing these movies, but rather predicting where they'll end up on the Tomatometer. Let's take a look at This Rotten Week has to offer.
The Great Wall, as we learn from this flick from director Zhang Yimou, was not actually built to keep the Mongolians out of China. Instead, it was made to help fend off alien attackers. This leaves a special group of warriors (led by a mercenary played by Matt Damon) to team up and prevent great destruction at all costs. If this sounds inane to you, don't worry, because you're instincts are probably very sharp, as that's pretty much how critics are responding. Zhang Yimou (House of Flying Daggers - 80%, Hero - 95%) has long been known for making beautiful films, and critics think the visuals are fine enough, but the story reportedly comes up more than a little lacking.
Having already been released in international markets, The Great Wall currently sits at 44% with sixteen reviews counted. Given all of the negative buzz that has been surrounding this movie, I can't imagine it climbs much over the course of the week. I probably could have told you this just from the premise and the casting, but some people need to see it to believe it.
Fist Fight is director Richie Keen's first venture in the world of features, though he has a bunch of TV credentials, including regular team-ups with star Charlie Day on It's Always Sunny in Philadelphia. It's tough to tell from the trailer where is debut will land on the Tomatometer. Sure, parts of the footage look funny enough, with the movie sporting a talented ensemble casts and a number of jokes from funny people. But trailers for comedies can be misleading with all of the funnies piled in, leaving nothing else for the rest of the movie.
My guess is Fist Fight is neither good nor bad, it just kind of "is," which will lead the final score on Rotten Tomatoes to be rather middling. It looks like it will be good for some chuckles, but I predict a whole movie about an impending teacher fight likely doesn't get all the way there with critics.
While he has been all over the map in his career as far as genre goes, Gore Verbinski has some critical wins on his resume. Some of the most impressive include The Ring (72%) and Rango (87%). Unfortuantely, there are a lot more "mehs" on there, like The Time Machine (29%), Pirates of the Caribbean: Dead Man's Chest (54%), and The Lone Ranger (31%) to name a few. As a result, it's hard to have a ton of confidence in the critical response to his latest movie, A Cure For Wellness.
Reviews for this one are trending bad early, with Gore Verbinski's return to the horror genre sitting at 34% with about 30 write-ups posted on Rotten Tomatoes. That isn't good, and I can't imagine it gets much better. It's one thing to go for the twist-and-turn psychological thriller, but it's an easy target to miss, and the results can sometimes be really terrible. That appears to be the story for A Cure for Wellness.
With three new films in theaters, I was successful with two of my predictions, and it probably should have had a clean sweep. If only I'd trusted Keanu Reeves and John Wick 2 (Predicted: 70% Actual: 91%) just a little bit more. It seemed almost inconceivable this sequel could meet or even exceed what the original (surprising) movie did the first time around. But here we are with Chapter 2 getting even more love for the revenge game genre. I was way off here, though I know I'll get more chances at this franchise because I suspect John Wick is going to be around for quite some time.
Meanwhile, Fifty Shades Darker (Predicted: 11% Actual: 10%) was a mess just as expected. Widely released films rarely land this low on the Tomatometer, mostly because there are usually enough critics who manage to get something out of a cinematic experience. This one, however, is bottom of the barrel and finished 14 percentage points under the original.
Finally, The Lego Batman Movie (Predicted: 89% Actual: 90%) crushed it as expected. I said last week that the true test of an animated movie is cross-appealing to kids and adults alike. The great ones do it and the Lego movies can be added to that list. They've gone two-for-two in hilarity for all ages. That's not an easy thing to pull off but I can't wait to see more of these little guys light up the screen.
Next time around we've got Collide, Get Out and Rock Dog. It's gonna be a Rotten Week!
Your Daily Blend of Entertainment News
Doug began writing for CinemaBlend back when Terminator: The Sarah Connor Chronicles actually existed. Since then he's been writing This Rotten Week, predicting RottenTomatoes scores for movies you don't even remember for the better part of a decade. He can be found re-watching The Office for the infinity time.