The Everything, Everything Trailer Is Romantic, And Has The Right Amount Of Beyonce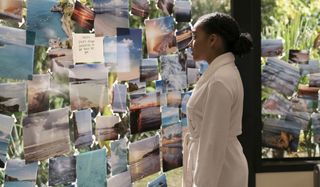 Adaptations of Young Adult romance books have been a nice little money churner in recent years. The likes of The Fault In Our Stars, If I Stay, and Me Before You returned very healthy numbers at the same time as costing relatively little, while the likes of Dumplin', Eleanor & Park, and Before I Fall are in various stages of development, too. Before we get those, though, we have Everything, Everything, and the first trailer for the romantic drama suggests that it's definitely going to provide all of the feels.
As the very hip youth of today would say, 'Totes emotes.' Everything, Everything was originally a novel written by Nicola Yoon in 2015. Recognizing its cinematic potential, MGM Studios and Warner Bros picked up it for an adaptation immediately, bringing in Stella Meghie (Jean Of The Joneses) to direct, while J. Mills Goodoe (The Age Of Adaline, The Best Of Me) wrote it.
Everything, Everything tells the unlikely love story of Maddy (Amanda Stenberg), who has to live within a hermetically sealed environment because of her illness. However, after moving into a new home with her mother (Anika Noni Rose), she soon catches the gaze of her neighbor Olly Bright (Nick Robinson).
Despite the walls between them, the pair strike up a romance, and Maddy's dreams of finally leaving her home, traveling the world, and falling in love finally become a reality. Of course, that pesky debilitating illness of hers means that several issues arise along the way.
I have to admit that I found the trailer for Everything, Everything rather cute and charming. Sure it was far from original, but Amanda Stenberg (The Hunger Games) and Nick Robinson (Jurassic World) had a nice rapport, while its empowering and enthusiastic drive was even a little uplifting. There's a good chance that its 'wide-eyed love will conquer all' message will ultimately annoy me, but I'll give it a chance. Especially because it used Queen Bey in the trailer, too.
The one big problem with the trailer for Everything, Everything is that it pretty much gives away the entire film. Actually, an even bigger issue is that this isn't even a problem anymore. It has now become the norm. Just take one look at the trailers for The Fault In Our Stars, If I Stay, or Me Before You and they do exactly the same, too.
Marketing for these films can get away with such superabundant trailers because they're very much aware that audiences will be seduced into watching them because of the entire emotional ride, rather than them surprising them with a twisting and turning plot.
We'll get to see if Everything, Everything is worth the ride, and can produce a deluge of tears and snotty tissues, when it's released on May 19.
Your Daily Blend of Entertainment News