The Predator Adds A Game Of Thrones Star To Its Already Awesome Cast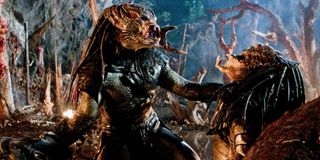 Shane Black's The Predator began production on Monday, with cameras rolling in Vancouver. The lauded writer and director took to his Twitter account on Monday to celebrate this occasion by showing off some of the cast for The Predator. Unfortunately, Alfie Allen wasn't around to join in the photo, but today it was revealed that he'll be right in the thick of the action when The Predator is released.
The Hollywood Reporter has confirmed that Alfie Allen, whose most memorable role has been as Theon Greyjoy in HBO's Game Of Thrones, will be part of what's already an impressive ensemble. They were also provided with a nice little tidbit regarding Alfie Allen's character, as it has been revealed that he's playing an ex-Marine. I know it's not a lot, but it's all I have.
In The Predator, Alfie Allen's ex-marine will team up with several other outsiders to try and take down the human-hunting creatures that are wreaking havoc across the country. As well as Alfie Allen, The Predator will also star Jacob Tremblay (Room), Sterling K. Brown (Office Christmas Party), Keegan-Michael Key (Key & Peele), Trevante Rhodes (Moonlight), Thomas Jane (The Punisher) and Olivia Munn (X-Men: Apocalypse), while Boyd Holbrook (Logan) is the man who will lead the troops in their battle.
Like a proud parent on the morning of his child's first day at school, Shane Black took to Twitter on Monday to post a picture of Brown, Rhodes, Holdbrook, Munn, Key, Tremblay and himself as they prepared to start production.
That's an awful lot of serious-looking faces. Which is understandable, because at least 4/6 of the actors in the above image probably won't make it to the end of The Predator, as they will almost certainly find themselves dismembered by one of the titular beasts.
The fact that Shane Black has co-written and is directing The Predator marks something of a reunion. That's because back in 1986, and hot off of selling the script for Lethal Weapon, Shane Black not only did some re-write work for producer Joel Silver on the original Predator, but he also had the tiny part of Rick Hawkins in the film, too.
This time around, though, Shane Black has been given free reign by producers John Davis, Lawrence Gordon, and Joel Silver to work his special kind of cinematic magic on The Predator, as he's co-written it with Fred Dekker (The Monster Squad), and he's right behind the camera, too. We'll finally get to see what he can muster up with The Predator when it's released on February 9, 2018.
Your Daily Blend of Entertainment News