Why Andrew Garfield Failed As Spider-Man, According to Andrew Garfield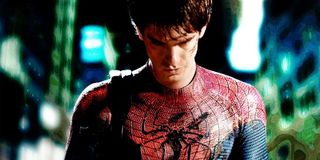 "I was never Spider-Man." So says Andrew Garfield. After Sam Raimi directed Tobey Maguire in his trilogy of films, The Amazing Spider-Man and its sequel were not as well received by the public. Whether or not you believe Garfield was a poor choice for the character, the actor spoke out about his time in the role and thinks he failed in many ways.
Garfield reflected on his portrayal during a roundtable interview for 99 Homes, which also stars Michael Shannon and Laura Dern. According to Zaki's Corner with Zaki Hasan, Garfield is pulling a Pierce Brosnan. Much as the former 007 thought himself ill-equipped to handle James Bond, Garfield tried to explain why he failed in certain capacities. He said,
Given Spider-Man's popularity, the Amazing Spider-Man films didn't offer fans what they were craving from the character on the big screen. The two installments fell into the same traps that befell Raimi's Spider-Man, with over-saturating the story with villains on villains on villains. Garfield also hinted at the failings of the films as a whole, saying,
Andrew Garfield seems to be implying that the character means so much to so many people, including himself. The actor paid tribute to Spider-Man during the first Comic-Con after he was cast in the role, and he knows how important Peter Parker is, which is probably why he's taking the criticism so hard. Now that Sony has struck a deal with Disney's Marvel Studios, perhaps the character can regain its footing in the cinematic space.
Tom Holland, 19, is the latest actor to be cast in the role of Spider-Man. He will make his first appearance alongside Chris Evans' Captain America, Robert Downey Jr.'s Iron Man, and Chadwick Boseman's Black Panther in Captain America: Civil War, coming to theaters next May. From there, he will spin off to star in his own solo Spider-Man movie, currently slated for July 28, 2017.
Your Daily Blend of Entertainment News