How Much Darkseid Might End Up In Justice League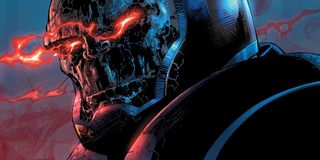 General Zod's attack in Man of Steel was devastating, but Earth will be facing arguably an even bigger extraterrestrial invasion later this year in Justice League. Following his communication with Lex Luthor in Batman v Superman: Dawn of Justice (well, the Ultimate Edition), Steppenwolf will bring his Parademon army to our world, and Batman, Wonder Woman, Aquaman, Cyborg and Flash (and later Superman) are the only ones who will be able to stop them. While Steppenwolf is a powerful character in the DC Comics universe, for hardcore comic book fans, his inclusion in the DC Extended Universe begs a bigger question: where's his nephew/master, Darkseid? There have been rumors for years that Darkseid might pop up in Justice League, and the latest report on his possible appearance indicates his screen time will be brief.
During a recent Periscope session, The Wrap's Umberto Gonzalez talked about a variety of Marvel and DC topics, and eventually the topic of Darkseid's possible involvement in Justice League came up. Here's what the reporter had to say:
While the claims that DC using Darkseid in their movies is just them ripping off Marvel's Thanos can be tiresome (Darkseid actually appeared in the comics first), in this case the similarities are certainly noticeable. In 2012's The Avengers, Thanos was referred to as the being who tasked Loki with invading the Earth and securing the Space Stone, but the Mad Titan fully didn't appear until the mid-credits scene, where he turned to the camera and smirked. If the above comment proves true, it sounds like Justice League will do something similar with Darkseid. He'll be felt as a powerful force and we'll even glimpse him, but the Lord of Apokolips' voice will be saved for later in the franchise, when he'll be leading the charge against the DC heroes personally.
Warner Bros and DC have officially been quiet about Darkseid's presence in the DCEU, but his existence was confirmed last year in Batman v Superman: Dawn of Justice not just with the deleted scene of Lex Luthor communicating with Steppenwolf, but through Batman's Knightmare, which depicted a giant Omega symbol burned into the ground and Parademons flying about. As for how we might see Darkseid in Justice League, it was reported last year that there will be a flashback set tens of thousands of years ago depicting an epic battle between Darkseid's forces and the humans, Amazonians and Atlanteans on Earth, one which ends with the Apokoliptan warlord leaving behind three Mother Boxes. One of those Mother Boxes is now powering Cyborg, but the locations of the other two, i.e. the ones given to the Atlanteans and Amazonians, remain a mystery.
While the exact timing of the flashback is questionable (there's a scene in the Comic-Con trailer that shows what looks like Viking warriors burying a box), it's already been confirmed that Steppenwolf will come to Earth in search of those Mother Boxes, so it's plausible that Darkseid's Justice League time will be limited to the past, and he won't take his rightful place as the main antagonist in the present day until Justice League 2 or another movie down the line.
Justice League hits theaters on November 17.
Your Daily Blend of Entertainment News
Connoisseur of Marvel, DC, Star Wars, John Wick, MonsterVerse and Doctor Who lore. He's aware he looks like Harry Potter and Clark Kent.
Your Daily Blend of Entertainment News
Thank you for signing up to CinemaBlend. You will receive a verification email shortly.
There was a problem. Please refresh the page and try again.