Avengers: Infinity War's Co-Writer Reveals Thanos' Main Goal, And It's Terrifying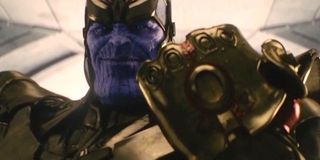 With Marvel's Phase 3 film slate officially underway, the countdown has begun for the climax of the entire affair. The Avengers: Infinity War will represent the culmination of everything that Marvel has done since Iron Man in 2008, and it will bring Josh Brolin's Thanos front and center for some badass comic book action. Infinity War writer Stephen McFeely recently made an appearance on the Marvel Studios Phase 3 Exclusive Look (a special feature on the Doctor Strange home release) and explained that Thanos' endgame is to rebalance the universe during Infinity War. McFeely elaborated:
I am honestly not sure if it's even possible for me to overstate the importance of Stephen McFeely's quote about Thanos' intentions. The phrasing here is everything. The very specific and very clear reference to Thanos snapping his fingers feels like a direct reference to the iconic moment from the comics in which Thanos snaps his fingers while wearing the Infinity Gauntlet.
If you've read the comics you will recognize that moment below.
At that moment, he literally kills half of the population of the universe and wipes them from existence with The Infinity Gauntlet. If this is the type of threat that we can expect The Avengers and the Guardians of the Galaxy to go up against when Infinity War debuts, then we can rest assured knowing that this will unquestionably be the biggest Avengers movie that we have ever seen.
The implications of this moment could have the potential to reach much further than a high body count as well. If Thanos' goal is the balance the universe and even it out in a way that he sees fit, then we could potentially see quite a bit of retconning occur as we move out of Phase 3 and into Phase 4. This event could involve significant recasting for characters like Tony Stark, or even lead to the inclusion of the Fantastic Four in the Marvel Cinematic Universe. Numerous fan theories have already suggested the possibility that fan-favorite Fantastic Four characters such as Doctor Doom could potentially appear (or at least be hinted at) in Infinity War, so anything's possible at this point.
At this stage of the game, we only know one absolute fact: Thanos won't be messing around when he finally arrives to face off against the heroes of the MCU. The Avengers: Infinity War will hit theaters next year on May 4, 2018.
Doctor Strange is currently available on Digital HD. Avengers: Infinity War opens in theaters on May 4, 2018.
Your Daily Blend of Entertainment News
Originally from Connecticut, Conner grew up in San Diego and graduated from Chapman University in 2014. He now lives in Los Angeles working in and around the entertainment industry and can mostly be found binging horror movies and chugging coffee.