Why Beauty And The Beast Is Terrifying To Josh Gad's Kids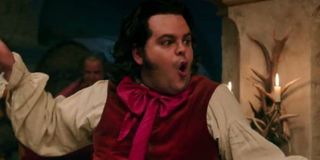 It must be bizarre to see one of your parents up on the big screen. But while Josh Gad's daughters are probably extremely proud of their father's work on Beauty And The Beast, it turns out that there was one certain emotion that they felt predominantly more: fear. It wasn't really his performance in the film that provoked this reaction, though, as Josh Gad revealed that it was the poster depicting him as LeFou in Beauty And The Beast that really left his kids utterly terrified. And you can clearly see why.
That's because Josh Gad has admitted that he appears to be channelling Jack Nicholson in The Shining in his pose, which looks as though it has come straight out of a horror film rather than promoting a children's movie. Either way, Josh Gad's children were more than a little perturbed by the poster, while the situation wasn't helped by his devilish stare, sinister smile and wild hand-gesture, too. In fact, pretty much everything about the poster is wrong, as Josh Gad freely admitted on The Tonight Show with Jimmy Fallon when he explained:
You can check out the poster that tore the Gad family apart below.
At least Josh Gad has the fact that he played Olaf in Frozen, a role that he'll reprise in the sequel whenever it finally arrives, to fall back on and impress his kids with. If his kids have issues with the above, then it will probably be a good idea for Gad to keep The Wedding Ringer out of their reach, though. Mostly because it's just a truly awful film.
In Beauty And The Beast, Josh Gad plays LeFou, the beloved friend to Luke Evans' Gaston. The main thrust of the film, though, takes place between Emma Watson's Belle and Dan Stevens' Beast, who undergo a spiritual journey together to help the latter break a spell that turned him from a young arrogant prince into a monstrous creature. Along the way there's also some singing, dancing and all round fun, too.
Meanwhile, you can check out Josh Gad's full chat with Jimmy Fallon on The Tonight Show regarding his awful poster for Beauty And The Beast below.
Beauty And The Beast will be released on March 17.
Your Daily Blend of Entertainment News