When The Next Transformers: The Last Knight Trailer Will Premiere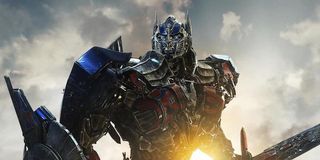 Tis the season when studios start up the promotional campaigns for their summer blockbusters. Which is why, fresh off of receiving a brand new clip for Transformers: The Last Knight Paramount Pictures is all set to give us a new elongated look at the fifth installment to the Bay-tastic franchise with a brand new trailer. It's going to come very soon, too, because it's been revealed that the next Transformers: The Last Knight trailer will actually be released with Beauty And The Beast when it hits cinemas on this Friday.
Trailer-Track has also confirmed that the clip is actually an extended version of the 60-second TV spot for Transformers: The Last Knight that premiered at the Kids Choice Awards recently. There's a chance that this trailer for The Last Knight won't actually be released online, though, as Paramount might decide to keep the family-aimed clip just in theaters, something they had previously intended to do with a similarly tinged teaser for Star Trek Into Darkness.
Those of you that want to check out the original one-minute trailer for Transformers: The Last Knight that's being extended for our pleasure can do so below.
We've also been given a brief description of what unfolds in the latest trailer for Transformers: The Last Knight, too, courtesy of someone that's already seen it. And from the sound of things, it has all the hallmarks of a trailer for a film that's being directed by Michael Bay,
And just in case none of the above is good enough for you ingrates, here's a full on trailer for Transformers: The Last Knight that will have you chomping at the bit for the blockbuster.
Booya. Despite being the fifth Transformers film in the last ten years, The Last Knight actually marks a little bit of a departure for the franchise. That's because a brain-trust of established Hollywood writers, which was lead by Oscar winner Akiva Goldsman (A Beautiful Mind), worked together in the summer to plan out the future of the Transformers universe, which is exactly what The Last Knight will kick off when it's released on June 23.
Your Daily Blend of Entertainment News