The Major Rogue One Character Darth Vader Was Originally Going To Kill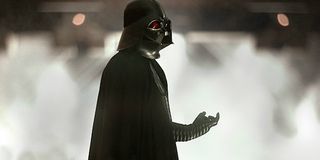 At this point, we all know that there were many different versions of Rogue One: A Star Wars Story all the way through its production right up until the final weeks of editing. In the build-up to the film's release on Blu-ray and Digital, further details regarding the alterations have emerged, and it has now been revealed that Ben Mendelsohn's Orson Krennic was originally set to survive the destruction of Scarif, only to then be brutally killed by Darth Vader himself. Gary Whitta, who wrote a version of Rogue One, made this revelation, before then detailing exactly how Orson Krennic was originally supposed to perish, explaining,
While I have to admit that I genuinely celebrated the death of Orson Krennic, as Ben Mendelsohn's performance turned him into a fiendish Star Wars villain for the ages, even I think that the above would have been a truly brutal and cruel way for him to meet his demise. It's practically the cinematic equivalent of a whale toying with a seal before he eats it.
Of course the above only raises further questions. Would Darth Vader killing Orson Krennic have been the precursor to him then boarding the Rebel command ship and decimating various members of the Rebel fleet? How would Darth Vader have killed Orson Krennic? Would he have used a Jedi mind grip? Or would he have turned to his trusty lightsaber again and then tore him into several pieces?
Thankfully Gary Whitta saved us from years of guessing by revealing that Vader would have killed Orson Krennic by squeezing the air out of his throat. However there was only ever a small chance of this scene reaching the final edit, as Gary Whitta admitted that it was "a bit of a reach" to explain how Orson Krennic survived the Death Star destroying Scarif. In the script Orson Krennic was found in the rubble on the transmission platform where he had previously fought Jyn and Cassian, and then he was taken up to Vader.
The above death of Orson Krennic was instead substituted out in favour of Darth Vader's murderous dance through the Rebel command ship. Gary Whitta admitted to Entertainment Weekly that even in his draft of the screenplay Vader was only ever in "two things in the film" and in the released version Vader is really there as much as he was anticipated to be.
While the above death of a wounded Orson Krennic would have been terrific to see unfold, I think that the team behind Rogue One made the right call in trading it out for Darth Vader's rampage. While Gary Whitta insisted that he had originally envisioned a scene of a similar ilk, he never actually wrote it into the script. Instead, the scene is believed to have been added by Tony Gilroy when he was brought on for the extensive Rogue One reshoots through the summer and fall. Thank the heavens it was, too, because it is already regarded as the definitive Darth Vader scene. Disagree? Let us know in the comments below.
Your Daily Blend of Entertainment News
Thank you for signing up to CinemaBlend. You will receive a verification email shortly.
There was a problem. Please refresh the page and try again.