Why Directing Darth Vader Is Scary, According To Gareth Edwards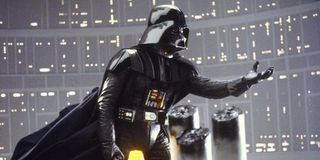 While Rogue One: A Star Wars Story introduced us to a cavalcade of new heroes that instantly charmed and enthralled us (especially that robotic rapscallion K-2SO), it was the appearance of Darth Vader in full-on baddie mode right at the end of the film that really had audiences out of their seats and whooping with delight. As a full-on Star Wars die-hard getting the chance to direct a scene featuring Darth Vader was always going to be an exhilarating experience for Gareth Edwards. But it turns out that there were some unexpected complications. Mainly because once Spencer Wilding or Daniel Naprous put on Darth Vader's helmet they immediately stopped being Spencer Wilding and Daniel Naprous and were suddenly Darth Vader in all of his terrifying glory. In fact Gareth Edwards recently revealed in a Reddit AMA that directing Darth Vader was more difficult than it would seem:
Gareth Edward's response is a little bit surprising, considering he has helmed movies with iconic characters before. (See: Godzilla.) Regardless, A guy in an iconic costume is clearly scarier than a CGI rendering, at least on the set. And Darth Vader, as Edward's notes, is "God." He is one of the most important characters in the history of film. It is a little intimidating to think about.
Thankfully, Gareth Edwards was able to quickly get over this early onset of nerves, as he oversaw one of the most spell-binding sequences in Rogue One, which saw arguably cinema's most famous villain ripping through Rebel soldiers with his lightsaber as he looked to retrieve the schematics of the Death Star. He failed. Princess Leia got them, and thus Rogue One was perfectly able to feed into A New Hope. With all of the reshoots that surrounded Rogue One, which reportedly included Tony Gilroy coming on-board to help retool the conclusion alongside Gareth Edwards as it originally wasn't coming together as intended, it's actually hard to know who to fully thank for Darth Vader's brutality in Rogue One.
Those of you wanting to relive the sequence in all of its glory will be able to do so in the comfort of your own home very, very soon. You can get yourself plenty excited for Rogue One: A Star Wars Story's home release by watching its trailer below.
Rogue One: A Star Wars Story will be released on Digital HD on March 24, and it will be available on Blu-ray and DVD starting on April 4. You can take a look at Gareth Edwards' full AMA, as well.
Your Daily Blend of Entertainment News
Thank you for signing up to CinemaBlend. You will receive a verification email shortly.
There was a problem. Please refresh the page and try again.