What's Actually Happening With The Terminator Franchise, According To The Producer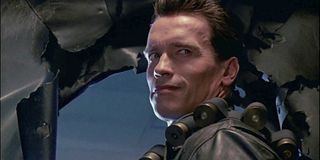 After Terminator Genisys left fans of the franchise bitterly disappointed, it became clear that the series was in desperate need of a freshening up. Most moviegoers believe that the one man capable of doing just that is James Cameron, who not only created the titular character and universe when he wrote and directed The Terminator back in 1984, but also oversaw its spectacular sequel seven years later, too. While there have been conflicting reports about whether Cameron will be involved in another Terminator installment or if the franchise is being scrapped entirely, the most recent comments from Skydance CEO David Ellison suggest that something big is happening on the Terminator front. Ellison explained:
While David Ellison doesn't mention James Cameron by name, there are a number of solid reasons to assume he's referring to the return of the filmmaker. First of all, Cameron hasn't been involved in the Terminator franchise since the release of Judgment Day in 1991. Plus, because of his iconic efforts on the first two Terminator films, fans have been pining for his return, especially because of the drudgery that was Rise Of The Machines, Salvation and Genisys. And finally, there were rumors over the last few weeks that Cameron and Deadpool director Tim Miller will oversee the next installment, too.
We won't have to wait too much longer for further information regarding the future of the Terminator franchise. That's because David Ellison also explained to Collider that an announcement will be made detailing who will be involved in the sixth Terminator film, and hopefully when it will be with us, in the next few months. Ellison continued:
While the confirmation of James Cameron being involved in future Terminator films in any capacity would be music to the ears of movie fans, the fact that he is already hard at work on the Avatar sequels suggests he won't be able to return as its writer or director. It's not just that Cameron is focused on Avatar 2, he's also simultaneously working on the third, fourth and fifth films for the franchise, too. Cameron has been writing and developing the four Avatar films since the first effort was released back in 2009. Which means that he's not likely to drop them at this point, especially since Avatar is still the highest grossing film of all time.
Clearly we're going to need more information before we get too excited about what the Terminator franchise has in store for its future releases, but at least David Ellison's comments suggest it's finally heading in the right direction.
Your Daily Blend of Entertainment News
Thank you for signing up to CinemaBlend. You will receive a verification email shortly.
There was a problem. Please refresh the page and try again.