Terminator 2 In 3D Is Coming Back To Movie Theaters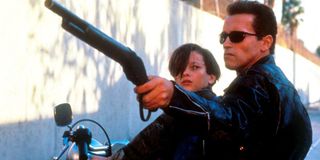 As arguably the greatest action film of all time, and one of the greatest ever sequels, too, the fact that Terminator 2: Judgement Day is returning to cinemas was always going to be worth celebrating. It's going to happen relatively soon, too, because it has now been announced that James Cameron's faultless masterpiece will in theaters at the end of August, when it will be debuting its brand new 3D makeover, too.
Studio Canal and DMG Entertainment have also confirmed that James Cameron himself has overseen Terminator 2: Judgement Day's 3D transfer. We've actually been waiting a while for updates on this potential rerelease of Terminator 2: Judgement Day, as the original plan was for it to hit cinemas at some point in 2016. That never materialized, but at least we only have a couple more months to wait. To bide us over, the studios released a brand new poster for Terminator 2: Judgement Day, which you can check out below.
Originally released in 1991, Terminator 2: Judgement Day was the follow-up to James Cameron's monster hit 1984 original. Problems acquiring the rights, and the fact that its budget of $102 million made it the most expensive film ever made at the time, meant there was a huge amount of pressure on the film when it was released. Especially since James Cameron's previous film, The Abyss, was a box office disappointment.
But Terminator 2: Judgement Day blew these worries out of the water, as it went on to earn $519.8 million at the box office, making it the highest grossing film of 1991. But it's not the amount of money it grossed that turned Terminator 2: Judgement Day a bona-fide cinematic classic. It was its visual effects breakthroughs, as well as the fact that it's the finest ever example of a big-budgeted Hollywood blockbuster, while James Cameron and William Wisher wrote the greatest script in the history of the action genre, too. You can fawn over Terminator 2: Judgement Day's excellence, courtesy of its very dated original trailer below.
James Cameron previously spoke about converting Terminator 2: Judgement Day to 3D back in June 2014, admitting that the only reason they would possibly spend so much money creating this new version would be to bring the film to the Chinese market. Cameron explained, via SlashFilm:
The first part of this plan will swing into action at the end of August, when Terminator 2: Judgement Day is released in the US on August 25, while it will also hit theaters in Australia, Russia, U.K, Germany and France around this time, too.
Your Daily Blend of Entertainment News