Woody Harrelson Asked To Play An Ape In Planet Of The Apes, But They Weren't Having It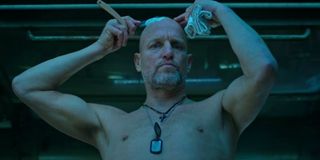 By this point it's become quite clear that Woody Harrelson can work wonders in any particular role. During production on War For The Planet Of The Apes, he decided that there was one acting experience that had passed him by that he'd love to try on for size, as he repeatedly asked director Matt Reeves and those involved in the film if he could don the mo-cap and portray an ape. I recently had the chance to sit down with Harrelson to talk about Wilson, and during our discussion I asked him whether he'd actually been able to play a simian in the blockbuster. But it turns out that the dastardly crew just wouldn't let him do so, even though he repeatedly asked, and even "tried everything." After my initial question, Harrelson answered:
Talk about a missed opportunity! I mean, Woody Harrelson would have been perfect as either the "stoner" ape, the "conspiracy theorist" ape or just an ape that hangs around on the sidelines cracking wise as Caesar and his posse plan their attacks on the humans.
Instead of being at one with the animals, Woody Harrelson is gung-ho to get rid of all of them in War For The Planet Of The Apes. The third installment to the rebooted Planet Of The Apes series pits Caesar (Andy Serkis) against Woody Harrelson's Colonel, as the apes and humans are embroiled in a war to claim the planet as their own. The first trailer for War For The Planet Of The Apes made it look rather spiffing, as it heavily suggested that it's going to be just as visually stirring, but even more rugged and grittier. You can check out the footage for War For The Planet Of The Apes ahead of its release on July 14 below.
Before then, though, audiences have the chance to see Woody Harrelson in all of his glory in Wilson, which is the adaptation of Daniel Clowes' graphic novel of the same name. Wilson is directed by Craig Johnson (The Skeleton Twins), and sees Harrelson acting alongside Laura Dern, Isabella Amara, Judy Greer and Cheryl Hines. You can watch a snippet of my interview with both Woody Harrelson and Laura Dern below.
Wilson will be released on Friday, March 24.
Your Daily Blend of Entertainment News