Judy Greer Back For Jurassic World 2? Here's What She Knows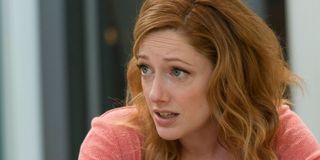 Back in the summer of 2015, Judy Greer popped up in two of the biggest films of the year, as she brought her own quirky charm to both Jurassic World and Ant-Man. Sure they weren't the biggest parts, but as usual she was able to lighten each of them with her presence to such an extent that the sequels just wouldn't feel the same without her. Which is why it's a little devastating that it looks as though Jurassic World 2 has deemed Judy Greer surplus to requirements, something that the actress admitted to me when I sat down to discuss her role in Wilson.
After chatting about her work on the comedy-drama Wilson, which sees her acting alongside Woody Harrelson and Laura Dern, I quizzed Judy Greer about the chances of her turning up as Karen Mitchell in Jurassic World 2. Which provoked her to respond with:
Since principal photography began on Jurassic World 2 at the end of February, you'd think that Judy Greer would have already heard from new director J.A. Bayona about whether or not Karen Mitchell will feature again.
Unfortunately, it would make more sense if the character didn't pop up in the film after the antics of Jurassic World. That's because the blockbuster saw Karen entrusting the safety of her two sons to her sister Claire (Bryce Dallas Howard). While Claire deserves the upmost credit for eventually saving the lives of Gray (Ty Simpkins) and Zach (Nick Robinson) from those pesky dinosaurs, I doubt that Karen would want her kids going anywhere near them again. Putting the kids in harms danger would also feel a little repetitive, too, while its hard to imagine Greer's inclusion without them.
There's a chance Judy Greer could still find herself called into action for Jurassic World 2, though, as Ty Simpkins previously insisted that he'd signed on for multiple films. However, it is still yet to be confirmed that he'll be involved in Jurassic World 2.
Those of you pining to see Judy Greer in action on the big-screen sooner rather than later are in luck, though. That's because she takes the role of Shelly opposite Woody Harrelson's titular character in Wilson. Based on Daniel Clowes' graphic novel of the same name, Wilson revolves around a lonely, neurotic and relentlessly honest middle-aged man who reunites with his estranged wife Pippi (Laura Dern) after he learns he has a teenage daughter Claire (Isabella Amara), who he sets out to meet for the first time. If the idea of Woody Harrelson, Laura Dern and Judy Greer in the same film isn't enough to convince you to go watch the film, you can see if the trailer for Wilson will do the trick below.
Wilson will be released into theaters on March 24, while stay tuned to Cinema Blend for further coverage from my interviews with Woody Harrelson, Laura Dern, Daniel Clowes and director Craig Johnson over the next few days. Jurassic World 2, with or without Judy Greer, will be released on June 22, 2018.
Your Daily Blend of Entertainment News