The Amazing Way Chris Pratt Is Hyping Guardians Of The Galaxy Vol. 2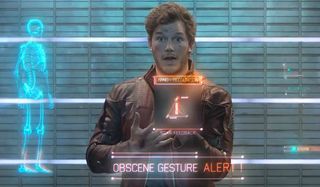 If there was one thing that we all learned from the release of Passengers, it's that Chris Pratt is the current king of promoting a movie. Not only did he charm the world wide web by constantly cropping Jennifer Lawrence out of his photos and then posting them online, but he also seemingly had a hilarious and self-deprecating story every time he spoke in front of a camera. With Guardians Of The Galaxy Vol. 2 now just over a month away from release, Pratt is currently warming up ahead of his promotional tour for the hugely anticipated sequel. In fact, he's now given us a quick taste of what we can expect in the build-up to the film by releasing a truly awe-inspiring diatribe about why everyone on the planet needs to go and see Vol. 2. And it's so hysterical that it will probably convince even the most ardent Marvel naysayer to go and watch it.
Superb. Just superb. Just in case you weren't impressed enough, I also failed to mention that Chris Pratt signed off this lengthy Facebook post with the elegant, "Humbly, Starlord," too. Pratt wasn't just spreading the good word of the Guardians to entertain himself, though. He also wanted to share a downright bodacious new poster for Guardians Of The Galaxy Vol. 2, which, while not quite as impressive as Chris Pratt's prose, is at the very least pretty to look at.
Need more? Then here's the latest trailer for Guardians Of The Galaxy Vol. 2, which as well as being outrageously entertaining also boasts a kick-ass soundtrack, too.
We can expect to hear plenty more from Chris Pratt ahead of Guardians Of The Galaxy Vol. 2's release, which is on May 5.
Your Daily Blend of Entertainment News