Riz Ahmed Was Apparently Supposed To Play A Different Character In Rogue One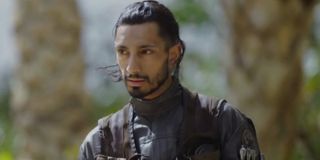 The more that we learn of the evolution of Rogue One: A Star Wars Story, especially in the final months of its production, the more astonishing it is that the film ended up being as good as it was. The latest revelation regarding the changes to Rogue One is that Riz Ahmed was originally supposed to play a character named Bokan, and his entry into the film was completely different, too. Ahmed made this admission himself, before then providing further details regarding Bokan. The actor recalled:
In the original drafts of Rogue One: A Star Wars Story, which were written by Gary Whitta, Bokan was once again being pursued by both the film's heroes and villains, and was still a key ingredient to exposing the Death Star's weak spot. But this time around, Bokan was part of Saw Gerrera's small crew that used a moon as their hideout. Jyn Erso (Felicity Jones) and the Rebels came into contact with Saw, Bokan and their pals after they crash-landed on the moon due to an electrical storm. Saw had actually modified his ships so that they could handle such an environment, but every other ship that tried to infiltrate it crash-landed. This is why the Empire had never been able to find Saw Gerrera.
Director Gareth Edwards gave an insight into why the character started to alter, as he insisted, "We though it would be stronger if he wasn't Saw Gerrera's guy, but instead he knew Galen." But as the film changed, so did the character, so much so that it was deemed necessary to change the name of Bokan to Bodhi Rook. But this was also symbolic, with Riz Ahmed explaining to Entertainment Weekly, "Bodhi means awakening. He's a character who goes through kind of an enlightenment." Despite the huge alterations, Edwards decided not to switch Ahmed with another actor because he noted that he was "good at playing conflicted decency."
For those of you that are trying to picture just exactly how crazy Bokan was supposed to be in Rogue One: A Star Wars Story, take a look at Dennis Hopper in Apocalypse Now. Which also just so happens to be footage of either a man on drugs, or a man who is so used to being on drugs that he puts in the most convincing display of such in the history of celluloid.
I'm not sure how much help he'd have been in the Battle Of Scarif. Rogue One: A Star Wars Story arrives on Digital HD tomorrow, and on Blu-ray/DVD April 4.
Your Daily Blend of Entertainment News