Why Deadpool 2 Cast Zazie Beats For Domino Over Other Actresses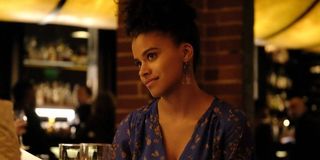 It's always interesting to know exactly why actors are cast in roles, especially when the film itself is so far away from release. And the bigger the film, the bigger the intrigue. So the recent announcement that Zazie Beats will star as Domino opposite Ryan Reynolds in Deadpool 2 made people wonder what she'd showcased in order to land the coveted part, especially since the casting process had been going on for so long. It turns out that Zazie Beats' most impressive attribute was being able to keep up with Ryan Reynolds, something that plenty of other actresses had failed to do. That's according to Deadpool creator Rob Liefeld, who explained,
Anyone who has seen Zazie Beats in Atlanta knows that there's an effortless presence and allure to her that will lend itself perfectly to both the comic book genre, and a film of this magnitude. In fact, she has the exact sort of nonchalant charisma that Deadpool 2 requires, especially in the wake of the huge success of its predecessor. Deadpool went on to become the most successful R-rated film in cinema history, thanks to its box office haul of $783.1 million. The revelation from Rob Leifeld to ComicBook.com that Zazie Beats doesn't just go toe-to-toe with Ryan Reynolds, but might actually exceed him, only adds even more credence to her casting.
But while Zazie Beats is now all set to take on the part of Domino in Deadpool 2, we're still patiently waiting for news on who will play Cable. The latest speculation from earlier this week is that Michael Shannon is now the front-runner, and he would certainly fit the bill. But considering just how much has unfolded because of Cable's casting in Deadpool 2 (with Tim Miller allegedly dropping out because of his differences with Ryan Reynolds over who should play the part), it's best to wait until Shannon is literally in costume before we get too excited about his participation.
Your Daily Blend of Entertainment News
Thank you for signing up to CinemaBlend. You will receive a verification email shortly.
There was a problem. Please refresh the page and try again.