Valerian Shows Off An Unusual Alien Species In This Exclusive New Photo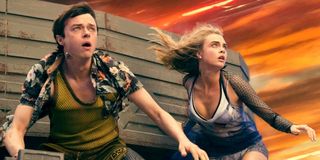 Valerian And The City Of A Thousand Planets is set to take viewers on an intergalactic journey through the 28th century when it's released later this summer. Which means that along the way, we can expect to be introduced to a cavalcade of aliens and creatures of all different shapes and sizes. The good folks over at STX Entertainment have given us early access to one of the species that will pop up in Valerian And The City Of A Thousand Planets. So without further adieu, ladies and gentlemen, dorks and nerds, please allow me to introduce you to the Omelites.
Looking for further information? Well, we have that, too. Because you'll be delighted to learn that the Omelites are a species composed of organic cells and metallic atoms. They are also expert programmers and have developed a society based on advanced information technology, with an ability to mentally interact via thought-messages with other species and technology. They are responsible for keeping Alpha, the city of a thousand planets, at the cutting edge of technology and security.
Basically they're small, shiny, incredibly intelligent and integral to keeping Alpha up and running. As the above image proves, they've also been meticulously designed by the team behind Valerian And The City Of A Thousand Planets to make its cinematic world as rich, dense and unique as possible. The Omelites are just one of numerous species that will be showcased throughout Valerian And The City Of A Thousand Planets, and with Luc Besson on board as a director, you know that we're going to get a close-up look at each of them throughout the film's running time.
You'll actually be able to get a closer look at the Omerites and various other species that will appear in Valerian And The City Of A Thousand Planets when the latest trailer for the film is released on Wednesday, March 29. Those of you who are eager to see footage from the film can find solace in the first trailer for Valerian And City Of A Thousand Planets below, which was released a couple of months back and immediately suggested that it will be a welcome addition to the summer schedule.
Sensational stuff. Luc Besson's adaptation of the ground-breaking French comic-book series revolves around Valerian (Dane DeHaan) and Laureline (Cara Delevingne), a team of special operatives who are tasked with maintaining order throughout the human territories. In the film, they are assigned to a mission on Alpha, which is the ever-expanding metropolis where species from across the universe have converged over centuries to share their knowledge, intelligence and cultures. However, there's a dark force at work in the city which threatens the peace of the City of a Thousand Planets, and it's up to Valerian and Laureline to find that menace. We'll get to see if they can do just that when Valerian And The City Of A Thousand Planets is released on July 21.
Your Daily Blend of Entertainment News