Why Michelle Pfeiffer Sort Of Disappeared From Hollywood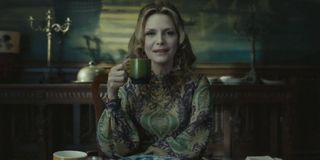 Hollywood is a place that can chew up and spit out even the most eager of actresses. So when actors start to become more picky due to the complications of life, there's every chance that they can get left behind. Michelle Pfeiffer has now admitted that's exactly what happened to her. Because even though she never lost her desire to act, after becoming more and more selective with what she chose to star in, she believes that she became "unhirable." When quizzed about her recent disappearance from Hollywood, Pfeiffer explained:
Michelle Pfeiffer's withdrawal from Hollywood actually happened rather progressively. After not appearing in a film from 2004-2006, Pfeiffer then popped up in both Hairspray and Stardust in 2007, giving deliciously evil portrayals that were a quick reminder of just how talented a performer she is. But over the last decade, only Cheri, New Year's Eve, Dark Shadows, People Like Us and The Family have been of any note, and the latter film, which was her most recent, came out all the way back in 2013.
But don't go mourning cinema's loss just yet. Because the next few months are set to see Michelle Pfeiffer make a storming comeback. She's already made quite an impressive start to 2017. Because after Where Is Kyra? premiered at the Sundance Film Festival back in January, her starring performance as a destitute mother looking to avoiding eviction was roundly praised. While the film itself doesn't sound as if it's strong enough to be in awards season contention right at the end of this year, Darren Aronofsky's mother! could do just that.
Darren Aronofsky, who spoke to Pfeiffer for Interview where she revealed the above quote, has previous experience when it comes to directing actors to accolades and Oscar nominations. He did just that with Natalie Portman (Black Swan), who picked up the Best Actress Oscar, while Ellen Burstyn (Requiem For A Dream) and Mickey Rourke (The Wrestler) were nominated. Since Jennifer Lawrence, Javier Bardem, Domhnall Gleeson,and Ed Harris are her co-stars in mother!, you know that the caliber of acting is going to be truly dazzling, too.
There's even more. That's because Michelle Pfeiffer is a part of Kenneth Branagh's ensemble in Murder On The Orient Express, which also includes Penelope Cruz, Willem Dafoe, Judi Dench, Johnny Depp, Josh Gad, Derek Jacobi, Daisy Ridley, and many more actors. mother! will be the first of these films to arrive, doing so on October 13, while Murder On The Orient Express will be released on November 22. Both of which should mean that we'll get to see plenty more of Michelle Pfeiffer over the ensuing years, too.
Your Daily Blend of Entertainment News
Thank you for signing up to CinemaBlend. You will receive a verification email shortly.
There was a problem. Please refresh the page and try again.