Liam Neeson To Take On One Of Humphrey Bogart's Most Legendary Roles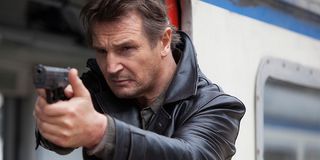 Over the last few years Liam Neeson has forged a career for himself as one of the most bankable action stars in all of Hollywood. It's now hoped that the same tough and mean-spirited persona that he's used in the likes of Taken and its two sequels, Non-Stop, and Run All Night will transfer over to one of the most legendary characters in literary and cinematic history, as Liam Neeson's next role will see him play none other than Philip Marlowe.
Liam Neeson has become attached to the succinctly entitled Marlowe, having being enticed to the project courtesy of a spec script written by William Monahan, which is based on Benjamin Black's book The Black-Eyed Blonde. Released back in March, 2014 to huge acclaim, the book brought the character to a brand new generation. Now it appears that it also piqued the interest of Hollywood types, making them think that a new cinematic incarnation of the character could work.
That's why Oscar-winning screenwriter William Monahan, who picked up the gong for his work on The Departed, immediately set out to bring The Black-Eyed Blonde to life. Set in the early 1950s, The Black-Eyed Blonde sees Philip Marlowe just as restless and lonely as ever, as his detective business is a little slow. But all of that is interrupted when a stunningly attractive blonde client walks into his office and asks Philip Marlowe to help him finder her ex-lover. Of course, there's much more to the story than that, and Philip Marlowe soon discovers that this disappearance is just one piece of a huge mystery that finds him wrapped up with one of the most powerful families in Bay Cities, who are willing to go to extreme measures to keep their fortune.
After debuting in Raymond Chandler's 1939 crime novel The Big Sleep, Philip Marlowe quickly became one of the most popular detectives in pop culture history. It didn't take long for Hollywood to get their mitts on the character. Time To Kill and The Falcon Takes Over were adapted in the early 1940s, but these films changed the name of the lead character from Marlowe. It wasn't until 1944's Murder, My Sweet that Philip Marlowe actually debuted, with Dick Powell portraying him.
But the most iconic actor to play Philip Marlowe was none other than Humphrey Bogart, who did so in the legendary Howard Hawks thriller The Big Sleep. Lady In The Lake and The Brasher Doubloon followed in the late 1940s, while the character enjoyed a brief renaissance in the 1970s when he was played by Elliot Gould in Robert Altman's The Long Goodbye and Robert Mitchum in both Farewell My Lovely and the remake of The Big Sleep. But it has now been almost 40 yeas since Philip Marlowe was last on the big screen.
William Monahan is well aware of the pressure that comes with making a Philip Marlowe film, as he admitted to Variety, "You have to do Chandler justice, carry a very particular flame, or stay home." It's hoped that the presence of Liam Neeson will help Marlowe to quickly find a home at a major studio, and those involved in the film expect an auction to commence in the very near future.
Your Daily Blend of Entertainment News
Thank you for signing up to CinemaBlend. You will receive a verification email shortly.
There was a problem. Please refresh the page and try again.