Why Upbeat Films Succeed During Difficult Times, According To Their Finest's Gemma Arterton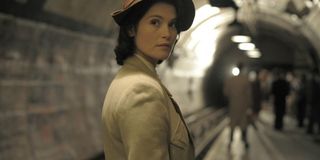 Movies have always provided people with the perfect form of escapism, even if it has just been after a tiring week at work. Never has this be more underlined than during the height of World War II, when the British ministry continued to churn out films to keep its inhabitants entertained. This is the period during which the upcoming romantic comedy Their Finest is set, and now its lead star Gemma Arterton has insisted that the film itself is a reminder of how inspirational the medium can be. The Quantum Of Solace actress explained:
Gemma Arterton made this admission to me when I sat down with the actress to discuss Their Finest at the end of March. An adaptation of Lissa Evans' novel, Their Finest earned impressive reviews when it was screened at the 2016 Toronto International Film Festival, with Gemma Arterton's leading performance, Bill Nighy's comedic relief and director Lone Scherfig coming in for particular praise.
Set in 1940, when Nazi Germany was overwhelming the English, Their Finest tells the tale of burgeoning scriptwriter Catrin Cole (Gemma Arterton), who is just in charge of writing the female dialogue, lead scriptwriter Tom Buckley (Sam Clafin) and actor Ambrose Hilliard (Bill Nighy) trying to create a propaganda film based on Dunkirk. You can watch the trailer for Their Finest by clicking below.
Meanwhile, you can also watch a snippet of my discussion with Gemma Arterton regarding Their Finest right here, too.
Their Finest will be released in theaters on April 7.
Your Daily Blend of Entertainment News
Thank you for signing up to CinemaBlend. You will receive a verification email shortly.
There was a problem. Please refresh the page and try again.