The Star Wars Bad Lip Read Video Features Mark Hamill Voicing Han Solo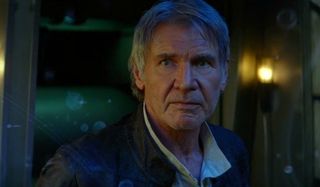 Any Star Wars fan that has ever considered what Mark Hamill would have sounded like as Han Solo now has their answer, because the sci-fi icon has stepped into the role for Bad Lip Reading's incarnation of The Force Awakens. And as with most things that the actor sets his mind to, especially when it comes to the Star Wars universe, he knocked it straight out of the park. You can see Mark Hamill's debut as Han Solo, as well as various other hilarious different interpretations of Star Wars: The Force Awakens by clicking below.
I sincerely mean this as a compliment, but that was one of the strangest things that I have ever seen in my life. And thanks to this video we now all know that Mark Hamill does arguably the great impression of Harrison Ford that the world has ever heard, which is something that we can all be eternally grateful for.
While the Bad Lip Reading of The Force Awakens is obviously meant to just be a bit of fun and jest, it does actually provide fans with the opportunity to reimagine their favorite Star Wars characters in a whole new light. To start with, who knew that BB-8 could be such an aggressive little turd, and spit out of such vile hatred? Sure he's very protective of Rey (Daisy Ridley), but there was absolutely no need to tell Han Solo to destroy both Finn (John Boyega) and Chewbacca. Especially since he did so with such glee.
Speaking of Chewbacca, it was a little weird seeing him gently flirting with Harriet Walter's doctor, especially since the Star Wars Holiday Special already showed us that he has a wife Malla and son Lumpy waiting back on his home planet of Kashyyk. Unless, Chewbacca's family was actually killed at some point after the release of Star Wars Holiday Special back in 1978, which is a scenario so potentially upsetting that I've already started to weep.
Of course, the highlight of the Bad Lip Reading of Star Wars: The Force Awakens was obviously the interchange between Han Solo and Princess Leia at the Resistance base on D'Qar. Not just because of Mark Hamill's deadpan responses as Han, but also because of just how weird and random Princess Leia's declarations became. It just beats Han Solo struggling to understand Admiral Ackbar's whimpers, before he finally wishes him a happy birthday, and his sudden declaration that he's terrified of ninjas. Which is no surprise if they can actually pull off your eyelids.
Kudos to the Bad Lip Reading team for their sterling work on The Force Awakens, while the final tribute to the dearly departed Carrie Fisher right at the end of footage was also a sweet and tender touch.
Your Daily Blend of Entertainment News
Your Daily Blend of Entertainment News
Thank you for signing up to CinemaBlend. You will receive a verification email shortly.
There was a problem. Please refresh the page and try again.